One thing that stinks is having a virus on your computer and knowing it is there, but no matter what you do you cannot remove it. I have had this happen a few times. When this happens you are left with a few options, either take it in, pay hundreds to get it removed, or save all your important files, hoping you don't forget anything and doing a clean install.
This is not practical and is very time consuming. However, leaving the viruses on your computer put you in great risk. It allows the virus to use your system for its playing grounds, and can also capture you inputting your credit card information in to pay bills. Thus, stealing your MONEY!
Most running windows probably have some sort of anti-virus protection, however those don't catch everything. Thankfully FixMeStick can help get those stubborn viruses off your computer. When I was introduced to FixMeStick a virus removal product, I knew I had to check it out. I have had many viruses and I have had many headaches trying to remove them.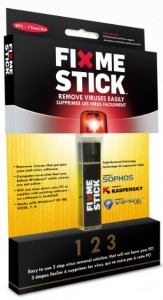 The thing about FixMeStick verses the other products out there, is FixMeStick runs via USB no need to install anything, and while it is running your computer is in a state where the viruses are sleeping. Nothing like getting zapped while thinking you are safe!
The whole process is pretty simple…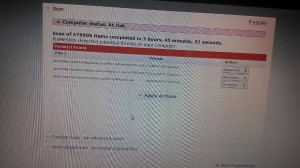 Clicking on the above images will show you the different steps. (Sorry pictures are not the best) After 3 hours and 45 minutes three viruses were found. Which to be honest, I am shocked… It wasn't long ago when I did a complete wipe, and my virus protection hasn't shown anything coming in.
Thanks to FixMeStick, the viruses are gone and my computer is running a lot better!
You ca purchase the FixMeStick from their website for $59.99 this will allow you to run it unlimited times on up to 3 different computers for a year. If you want to run it on more than three different computers you can purchase the pro for $299.99. One great thing about the FixMeStick is after the year is up you can purchase more charges for the device.
One lucky reader of The Neat Things in Life, is going to have a chance to win their own FixMeStick! Watch the video below and proceed to rafflecopter.
Giveaway is open to US and Canada Residents
Also be sure to check out FixMeStick on their social media channels.
-Facebook: http://www.facebook.com/FixMeStick
-Twitter: http://twitter.com/fixmestick
-YouTube: https://www.youtube.com/fixmestick
I received product for review purposes only, this is my honest opinion and others may vary.