I have had the pleasure of working with a great company not once, not twice but three times now. They have yet to disappoint me. Ornaments with Love is a family ran company. They started in the retail gift business over 50 years ago. Over the last 16 years they have been selling their personalized Christmas ornaments in the Connecticut and Washington, DC area malls.
Over the past 6 years they have spread their wings even bigger and moved on to selling to those on the Internet. With over 2000 different ornaments they're sure to have something that will make your Christmas tree glow.
This year my daughter is into Hello Kitty. So we pick the Personalized Hello Kitty with Pink Bow and Pink Dress Christmas ornament!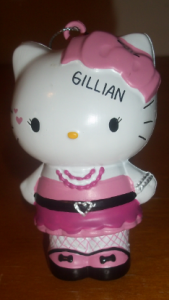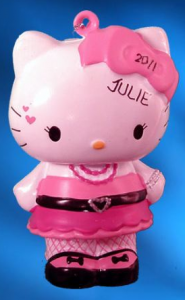 As you can see from the images the ornament is amazing. Gillian cannot wait until after Christmas so she can take her ornament and hang it in her newly painted bedroom.
One thing I love about this company is the wide range of ornaments they have. They have everything from newly married, to new babies. They have sport ornaments and dog ornaments. Their ornaments range in price and are well worth it. If you have a Hello Kitty fan in your home they have 2 other Hello Kitty ornaments as well.
I have noticed that every year they add more and more to their already amazing collection. I am very please and proud to hang an Ornament with Love ornament on my tree this year. Ornaments with Love offer free shipping on all orders over $50.
This holiday season get a new ornament for those trees! Christmas ornaments are great to pass down to your children for their trees once they start their own families.
I received an ornament for review purposes only, I am very pleased with this company and highly recommend them and their ornaments!