If you are over weight or obese like some like to put it, you are in the same boat I am in. My weight is a yo-yo, it goes up and down and I hate the scales. I know once I see an increase I will get depressed and give up. Lately I haven't been giving up, I have however been getting thrown a curve ball in life and somethings have been tested. I lost a great deal of weight only do put more back on. Thankfully, I didn't put it all back on and with the help of SaffroLean I have been able to remove the weight yet again.
I dislike when things in life are going well, then others come a long and cause you drama.
For the past few months I have been taking a product called SaffroLean. This is a pill that is to be taken twice daily with water 30 minutes before you eat. When taken the 90 day challenge, you are not only supposed to lose weight, but it is also supposed to help with your mood, and your energy level.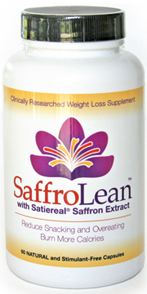 SaffroLean has Satiereal Saffron in it, for those who are not sure what Satieral Saffron it's a natural extract from the plant we get the spice saffron from. It has been being used for centuries to help improve ones mood and stress in the Middle East, Africa, and Europe. Recently, scientists have been confirming the discovery of the Europeans, who found this extract to help aid in weight loss. Those taking Satiereal Saffron will find they are becoming full with less food. They will find they're not snacking as much either.
Since I have been taking this supplement I have noticed I am not eating as much, my mood has been a bit better, and my stress level not as bad. I think the timing for me to take these pills was a bit off. A lot has been going on in my life, so it has been extremely stressful. Since starting to take the pill I have lost about 15 pounds, which is what I gained back because life become to hard to handle.
Everyone is different so everyone will have different results. I think what I liked best about this challenge was the newsletters that helped keep me a bit more focused.
I look forward to continuing my weight loss journey and reaching my goal weight one day.
If you would like to take the 90 day challenge you can purchase the SaffroLean pills on their weight site. It is recommended to try the pills for 90 days because it can take up to 8 weeks to start feeling the full effect.
Would I recommend this product yes, did I notice a huge difference no, but it does take time and a lot of things need to be taken into consideration. I am on several different medications, and I have been dealing with a lot.
I received a 90 supply to try for myself. All opinions are mine and others will vary.