Seventy-four more days until the man with the red suit shows up. Yup, only 74 more days. If you are one to send out Holiday Cards now is the time to get them ready. By the time you order them get them to your door, fill them out, address them it will be about time to stamp them and put them in the mailbox.
Last year I waited until the last minute and they got them at the beginning of the new year. This year I am starting early!
I love getting my holiday cards from Tiny Prints, they have some adorable ones! This year I am thinking about getting the Ornament Cards they have.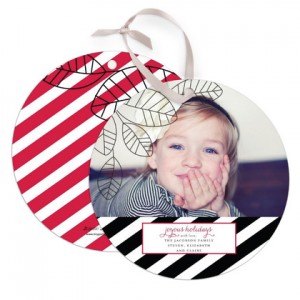 I love purchasing items that have a multi-purpose. I know when I get cards for the holidays they sit out for a shot period then get tossed a side to be forgotten. With the Ornament cards they can go on the tree year after year, and everyone can see how much my daughter is growing every year.
These are great cards for the family members who are not in the same state as you.
I have always been a big fan of Photo cards, I think it makes the card more special. I like to make my cards I send mean something. Not just some generic thing I purchased at the store. Now don't get me wrong some of those cards are super cute, but I want mine to show the person who is getting it, to know I was actually thinking about them.
I mean if you think about anyone can run to the store go in and grab any old card and send it, but those don't mean much. I like actually putting the time in to finding that perfect card to let my loved ones know I am thinking about them.
I think that is why I love Tiny Prints so much, because I can customize the card for the person I am wanting to receive it.
With the holidays coming up make sure to check out all the new cards Tiny Prints has to offer. If you're like me you like getting great deals, so make sure to also follow them on Facebook and Twitter, so you can be one of the first to know if they have any specials going on.
Are you sending out holiday cards this year?
This is a sponsored post, however I do love tiny prints and I use them often to order my cards for family members living in another state.