Living a healthier lifestyle means cooking healthier meals. No more cooking from a box for me! With cooking more meals, I need all the great gadgets to make my job in the kitchen a bit easier. So when I was asked if I would be interested in checking out a piece from the new Collection from All-Clad I had to say YES.
I went with the All-Clad® Hard Anodized Solid Aluminum 16″ x 13″ Roaster with Rack, I knew I would get the most use from this piece, and I already had a nice pot and pan set. When it came I was super excited, nice doesn't describe it. You can tell by looking at it, how durable it is, and how it's not some cheap roasting pan that would eventually get all scratched up and chipped.
 Hard anodized nonstick cookware offers the All-Clad® guarantee of exceptional performance, quality and durability in the convenience of your home kitchen. The melding of heavy gauge, anodized solid aluminum with a superior nonstick cooking surface for easy food release and cleanups, ensures professional results every time. This versatile roaster is ideal for roasting large cuts of meat or whole pieces of chicken. The included v-shaped rack allows for even browning of meat and collection of natural juices in the base of the pan for basting, glazing or a gravy base. Tall, straight sides are ideal for preventing spills or splattering plus the large, signature stay-cool handles make for safe and convenient movement in and out of the oven. Dishwasher and oven safe. Imported. Lifetime warranty.
My husband and I were amazed on how well the roasting pan cooked our turkey!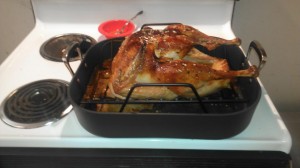 As you can see from the above picture the turkey is nice and brown in all the right places, not to mention how moist it was, and cleaning up the pan was very simple as well. I will never use another cheap throw away pan to cook my turkey in, and I cannot wait to cook the whole chicken I have in my new pan.
I can see myself using the roasting pan for more than just large cuts of meat, with the even cooking this will also be nice for those one dish meals when we have family over for dinner.
The All-Clad® Hard Anodized Solid Aluminum 16″ x 13″ Roaster with Rack can be purchased at Bed, Bath & Beyond for $149.99.
If you're not in need of a roasting pan, All-Clad has other great products that will make your time in the kitchen pleasant. Some of the items from their new line include…
3 Qt. Sauce w/Loop & Lid ($89.99)
8 Qt. Stockpot with Lid ($225)
4 Qt. Soup Pot ($99.99)
12″ Chef's Pan with Loop & Lid ($99.99)
11″ Flat Square Griddle ($49.99)
16 x 13″ Roaster ($149.99)
The 2-piece fry pan set includes an 8″ and 10″ fry pan ($59.99)
The 5-piece set includes:($249.99)
10" Fry pan
2 Qt. Sauce pan with lid
3 Qt. Sauce pan with loop & lid
The 10-piece includes: ($599.99)
8" Fry pan
10" Fry pan
2 Qt. Sauce pan with lid
3 Qt. Sauce pan with loop & lid
4 Qt. Sauté pan with lid
8 Qt. Stockpot with lid
This holiday season when you are making those purchases make sure to check out the new line from All-Clad to get those cooks in your life. You will not be disappointed in the products you purchase.
I received product for review purpose only, no other form of payment was received.