With 3 unique flavors, Angry Orchard's beverages are a great choice for those with a taste for both traditional and original apple cider drinks. After finding out about the opportunity to review all 3 Angry Orchard flavors, I was excited to taste them for myself.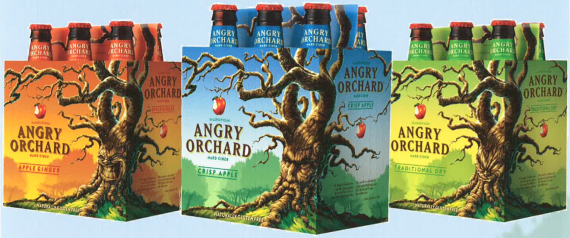 The day the drinks came in the mail, I tried a bottle of each. They are very easy to drink and although you can taste the alcohol, they are not really strong drinks. I rarely drink alcoholic beverages and after drinking three of these in around 3 hours, I felt very little from them. This makes Angry Orchard's cider a great accompaniment to holiday meals.
After basting myself with Traditional, Crisp Apple and Apple Ginger, I had another idea that proved to be a good one. I decided to use Angry Orchard hard cider as a baste for our Thanksgiving turkey. With some garlic, butter,rosemary and Angry Orchard Crisp Apple hard cider, the turkey turned out tender, juicy and very flavorful. Apples are a well known ingredient in the use of poultry because of its ability to retain moisture and help flavor the meat. Combined with alcohol content, Angry Orchard tenderizes poultry in two different ways for maximum juiciness!
Whether you enjoy an occasional alcoholic beverage and like the taste of apples or you want a terrific alcoholic beverage to baste poultry, Angry Orchard offers three great flavor varieties that are easy to drink, delicious and full flavored. Pucker up for dry traditional cider or spice it up with Apple Ginger, Angry Orchard is sure to be a hit with everyone as a great summertime beverage or a tasty holiday treat.
Whether you are wanting to cook with it, or use it for entertaining Angry Orchard will not disappoint you or your taste buds.
Rosy Reindeer Cooler
Ingredients:
2 medium strawberries, quartered (8 cals) (2g)
2 basil leaves, julienned (cut into thin strips) (0 cals) (0g)
2 lime slices (10 cals) (0.5g)
½ oz simple syrup (18 cals) (1g)
1 oz vanilla vodka (used Stoli Vanilla) (60 cals) (0g)
4 oz Crisp Apple Cider (70 cals) (7.5g)
=166 calories, 11 grams of sugar
Mixology: Muddle strawberries & basil in simple syrup. Squeeze & add the 2 lime slices. Fill glass with ice (We suggest a mason jar, but tumbler also works). Add 4 oz cider. Stir to incorporate ingredients. Garnish with strawberry & lime slice.
Be sure to check the Angry Orchard site to see where you can pick up your Angry Orchard Hard Cider to help with your entertaining needs this holiday season.