A few years back I use to do things for MyBlogSpark. For those of you who are unsure what MyBlogSpark is let me fill you in a little…
Coyne PR and General Mills are the companies behind MyBlogSpark. It was created basically to give bloggers a chance to try new products, and to let their readers know what they thought. While also giving one lucky reader a chance to win a neat gift pack. Through the MyBlogSpark platform Coyne PR has worked with several different brands and companies.
Some being Kroger, Target, Walmart, Green Giant, Crayola, and even Burger King. According to their website that have built relations with more than 9,000 members.
The last time I spoke with someone from MyBlogSpark, they informed me they try to work with all bloggers within a 3 month time frame, I know this to not be true since all the same bloggers are usually the ones doing the campaigns. Which is fine with me I would prefer to win them, until recently that is…
Recently, Coyne PR has changed the way some things run for MyBlogSparks. I am not sure if General Mills had anything to do with this or not. However, I noticed a lot of bloggers fussing about the new way, and in September, I won a giveaway that was a "MyBlogSpark" promotion.
I was really excited to try these new products, it was for the Betty Crocker cereal muffins…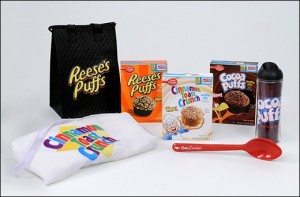 and if I would have known MyBlogSpark, was not going to send the prize I would have continued to enter others like that… Anyways, when I seen other bloggers fussing about MyBlogSparks and Coyne PR, I quickly emailed the blogger I had won the prize from.
She let me know she was going to look into this, and she would get back with me.
I emailed again yesterday to see if she had heard anything about the prize, and the response was…
Jammie,

I just heard back from them, and they say they have no record of me submitting your info. and can no longer fulfill the prize.  I checked the paperwork it says the winner has to be submitted by 10/1, and since I emailed you on 9/26 it is possible I was late submitting your info, I am not really sure.  I wasn't aware there was a deadline until I started looking into the problems they are having.  So since it could be my fault I'll send you a $25 amazon gift code later tonight to make up for it.  They certainly haven't done a good job of communicating with bloggers about their new fulfillment policy and deadlines.  Sorry for the inconvenience,
This blogger admits she maybe at fault and since it might have been her that didn't send in the information she did send me a $25 amazon gc. Which was great, BUT… I don't blame the blogger, I blame the company.
While the blogger may have been at fault a small bit, the company should be fulfilling the prizes… The bloggers are promoting the products, the ones entering are promoting the giveaways and the products, there is NO reason these prizes are not getting fulfilled. I remember when MyBlogSparks first started they were one of the best! Prizes were shipped in a timely manner, and I never had no complaints.
Now it seems they have gone down hill, and if you decide to work with them keep all records of you emailing them… I know one blogger the fulfillment center tried to say she never contacted them, when in fact she had the emails to show she had, and they had been emailing her back in return.
I am very iffy on whether or not I want to enter any more giveaways I know are sponsored by MyBlogSpark. As of right now entering any of them will only be a waste of time, because you have no idea if the blogger will get your info to them in time, or if the company will lie and say they never received the information before the deadline.
Coyne PR, General Mills, and MyBlogSpark reps, if you are reading this do the right thing and start fulfilling the giveaways! The ones entering and winning shouldn't be punished because the bloggers, and/or the PR reps don't know how to properly communicate.