I am a big fan of personalized gifts. With Christmas coming up most the gifts I have gotten for my family have been personalized one way or another. When I was contacted by PicturesOnGold.com and asked if I was interested in reviewing their Sterling Silver "Sweetheart" Heart Locket I had to say yes! I had seen their Photo Lockets before on other blogs and was amazed with what I had seen.
I knew this would be the perfect gift for my daughter. With having her grandfather and uncle in heaven, I wanted to have it personalized so she new she always had two angels watching over her at all times.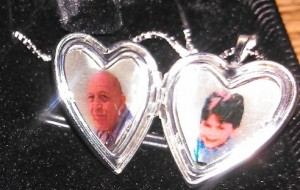 The pictures turned out great! The one of my little brother is only messed up due to the image I had, it had nothing to do with the quality of work from PicturesOnGold.com I new this was going to be a big of an issue, because all I had was scans that are very old. I am very happy and pleased with the work, and my daughter loves it. On the front I had an angel engraved, because these two men will always be watching over my daughter making sure she is safe.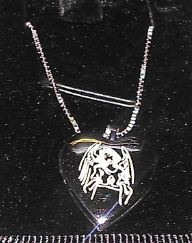 PicturesOnGold.com has a lot more to offer one looking to have personalized jewelry made. They have a wide range of Photo Jewelry that is sure to make anyone on that Christmas list happy.
What my daughter had to say about her Guardian Angel Locket:
I love the necklace it's amazing, They did a wonderful job, I love having my loved ones close by my heart, it means a lot to me. I love that it is made with sterling silver. I think it is very fashionable and since it is sterling silver it will look great with anything I wear.
So when you are looking for things to get those loves ones, considering getting Holiday Photo Pendants. Not only are they fashionable like my daughter said, they will also warm the heart of those that are at the receiving end.
Promo Code
HOLIDAY12 at checkout for a 10% discount for all orders placed on our website PicturesOnGold.com by December 1, 2012
One lucky reader of The Neat Things in Life is going to have a chance to check out PicturesOnGold.com first hand!
Giveaway is open to US and Canada residents 18 an older.