Social media has come a long way in the past few years, now we have outlets such as Facebook and Twitter that keeps everyone upto date with the happenings around them. Want to know why Bob came to work all pissed off this morning? Do a quick search on facebook, I am sure he updated his status before coming to work.
It seems we like to keep everyone around us informed of our mood or relationship status at the time being. I have noticed many will do it out of desperation to get some sort of attention whether it be good or bad. If one doesn't leave a comment to a facebook status change it is the end of the world. How dare you not care how I am feeling!
Status Update Bands give those the power to take their status updates offline. If Bob would have had him a set or two, you would have known as soon as you seen him what his issues were… this would have saved you the trouble from having to go look, and everyone else in the office would have known to stay away from Bob that day, because his girlfriend left him, and he was angry.
We received the inspiration and the mood pack for review. They come in two different sizes skinny or regular, and they have several different packs, colors, and charms to customize your moods.I would honestly say these are more for younger adults/teens. I had a hard time getting it on my wrist, my daughter not so.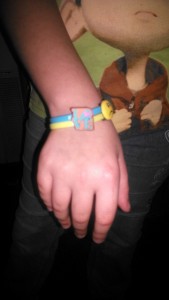 I would personally love to see them make a few different sizes for those that have bigger wrists. I think it was a neat idea to make status bracelets. These would be great for the couples so they know when to stay away from their partner! If my husband is in one of his moods I want to know before I go and inform him of something stupid I may have done.
Status Update Bands can be purchased on their website in packs or you can purchase Status Update Bands
on Amazon. When going to make those purchases think stocking stuffers for the facebook junkies!
Make sure to follow Status Update Bands on Facebook to get all the latest updates.
We received product for review purposes only, no other form of payment was received.