The guys and gals at Hobo Ninja recently gave me the opportunity to review their full sized Zelda Twilight Princess Fantasy Video Game Sword. I was excited to receive this product because I am a long time Zelda fan and already own the ocarina.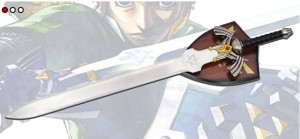 At only $49.95 USD, I expected the sword to be of a quality standard for similarly priced replica swords on the market. To my surprise, hoboninja's Zelda Twilight Princess Master Sword features a very thick and heavy blade. Although the blade is completely dull for safety and because it is a replica, it is constructed from the thickest steel I have ever seen in a collectible sword of this price.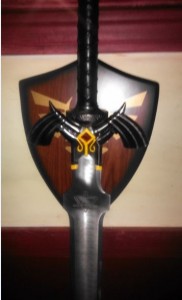 The blade also has an engraved triforce emblem on both sides that sets the blade off very nicely. The handle is constructed from durable hard plastic. It is beautifully crafted and matches the design of the in game sword very accurately. While the handle is plastic, you can hold and swing the sword without worrying about it breaking.
Displaying the sword is simple for anyone because of the wall mountable shield hanger that is included with the piece. The wooden shield features the Twilight Princess wing emblem and the sword hangs easily on the shield from two metal hanging hooks with protective rubber ends.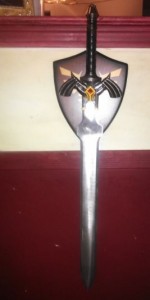 Overall, the Zelda Twilight Princess Fantasy Video Game Sword from hoboninja.com exceeded my expectations. I highly recommend this product as a gift for the Zelda fan in your family. If you are a Zelda fan yourself, add this one to your holiday wish lists. With high detail and heavy, durable construction, the Twilight Princess Master Sword is an affordable and high quality collectible for each and every fan of the Zelda game series.
If you are looking for unique gifts that are very reasonably priced check out Hobo Ninja. They have some pretty sweet items over there that will make great gifts this holiday season!
Thanks to Hobo Ninja one lucky reader of The Neat Things in Life will get a chance to check them out first handed! Giveaway is open to US addresses only, no APO/FPO.