With the temperatures we have been having I am having my doubts if winter is upon us. Thankfully the chilly nights assure me we are indeed in the winter months. Thanks to cafepress and their custom hoodies I will be staying a lot warmer this winter. Recently, I was able to check out the custom hoodies from cafepress. With being a huge fan of Dexter, I decided to go with a WWDD (what would dexter do?) hoodie.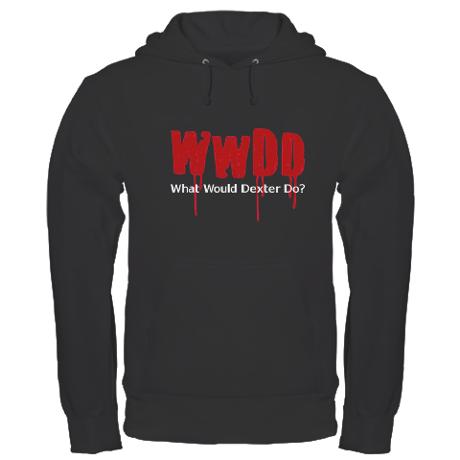 When I first for the hoodie I was impressed. To be honest, I was thinking it wouldn't have been has heavy as it was. It's made with a blend of 90% cotton and 10% polyester which makes for a nice and warm hoodie. The inside of the hoodie is lines with a fleece and it's got a rather large pocket in the front which I LOVE.
When I go to the store I can keep everything in the front pocket and when I am walking into the store my hands can stay warm. The hoodie is sewed with a durable double-needle stitch so the hoodie will last and not fall apart after a short time. I have also found the hoodie to be made better than the ones you would purchase from the store.
Cafepress is a great place to get those custom products. Whether you're into Dexter or The Walking Dead staying in style this winter has been made easy thanks to Cafepress.
I received product for review purposes. No other form or payment was received.