How many of you are always on the go? Whether it be taking the kids to different sporting events or maybe your job has you on the go often. I was recently introduced to a product that is perfect for those on the go days where it doesn't seem there is time for much of anything. Hot Can products heat in 3 minutes and are perfect for those late night sporting evens, cold nights camping, or even the late nights at the office.
Hot Can come in 4 different soup flavors and 4 different drink flavors.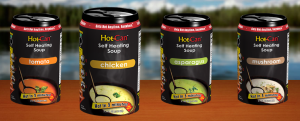 One thing I liked about these products is the fact they're on the go friendly. Which means having a few on hand is perfect if errands take longer then expected and you have kids fussing they're hungry.
I also like that the cans heat the food. I noticed that sometimes when you go to activate the product in the can that heats it, it can get stuck so you have to tap the bottom or the can to help activate the product. With it being winter my hands get cold super easily, having the warm can on hand while getting to enjoy a cafe mocha was a plus.
Hot can products would be great in those emergency kits. If the power was to go out you could enjoy a nice hot cup of tea, or even some hot soup. Being prepared for disasters are always a good thing.
Another thing I love about the product is the can has an indicator on the side which lets you know once the product is heated! This allows me to know that the product is heated and I won't be trying to drink down luke warm hot chocolate.
Hot can products can be purchased on their website.
I received product for review purposes only. No other form of payment was received.