Can you believe Christmas is literally right around the corner! If you're like me, you maybe a last minute shopper. No worries though RadioShack has a little something for everybody. RadioShack has been a favorite of my families for years. I remember the first time going into a RadioShack it was in 2001. I was pregnant and wanting to get my father in law a nice father's day gift.
At the time we had a police scanner, and he thought it was the neatest thing in the world. We wanted to get him one but we were on a budget. We went into RadioShack and found the perfect scanner for him. When we gave him his gift, he was so tickled he teared up, he thought it was one of the coolest things around. If you have someone on your list that likes to know what's going on around the neighborhood, make sure to check out the great selection of police scanners at your local RadioShack.
Or maybe you have a music lover in your home that wants to zone everyone out and listen to their music. RadioShack has a nice selection of AUVIO headphones that will make the one receiving happy and not make your pocketbook sad.
If you are in need of some last minute gifts for the kids, check out the Propel RC Hovermaxx LED RC UFO currently on sale for $12.99.
The Hoovermaxx LED RC UFO is designed to bring fun for those 8 an older. Watch as your UFO lights up and hovers around. With the ability to go upto 50 feet with a full charge your kids will have lots of fun.
(Sorry for the sideway video. It was dark…)
If you have one on your list that is into learning how things work, you want to check out one of my favorites the Elenco™ Snap Circuit Green Alternative Educational Kit! The Elenco™ Snap Circuit Green Alternative Educational Kit retails for $69.99 and will bring hours of learning! We were able to check out this kit, and with being homeschoolers I was very impressed.
This kit comes with everything you need to do over 125 fun projects while teaching your child all about clean, renewable, alternative energy. This kit will help your child better understand solar energy, wind power, hydro power and so much more.
When we got the kit open my daughter grabbed up the book and started to find projects to do.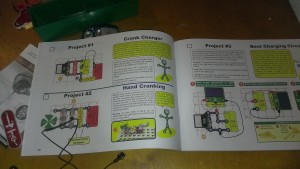 The instructions given are simple for her to follow, and in no time she was getting the hang of everything.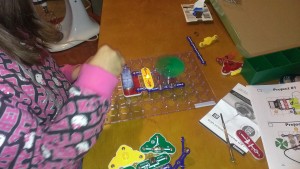 As she would finish with one project she would move on to the next she was amazed with how everything worked! This kit even came with a book that teaches. One thing I love about home schooling, is kits like these. Not only do they allow the child to have fun, it teaches them. When a child can see how things work up close and hands on they're more apt to want to learn more, and to actually absorb the information they're being taught.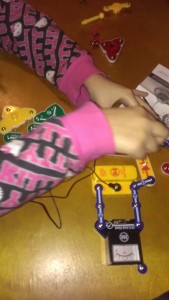 Do you still have some last minute shopping to do? Head on out to RadioShack and let them help you with those last minute gifts.