Although the Samsung Galaxy S3 features a durable, damage resistant gorilla glass 2 screen, the back and sides of the device are quite thin and susceptible to damage from drops and dings. The IMPACTOLOGY cases from Tech21 aim to not only protect these potential damages areas, but to do so with a material specifically designed to absorb impact.
When I first received the Tech21 case for my Galaxy S3, I had already been using a case I had previously purchased. After slipping the case on, I immediately noticed the buttons were much easier to press than with my other case. In addition to this, the size increase is very minimally changed to the thickness of the phone, but instead increases the width and height of the phone.
This is because the Tech21 IMPACTOLOGY case focuses on the edge areas of your phone that are more prone to damage from impacts. The D30 material used in the cases has been fabricated into an orange foam that  makes up the protective edge of the case. The width increase actually makes the phone much more comfortable to hold and operate, which is why it has replaced my other case.
Surprisngly, the Tech21 IMPACTOLOGY cases are the only manufactures smartphone cases that feature scientifically proven materials that absorb impact. The kit actually comes with a jar of the D30 material and a mallet to test it for yourself. After wrapping my finger in the material and hitting it a few times, it was quite evident how the material works. Normally, the substance is very flexible, but it becomes hard immediately upon being struck.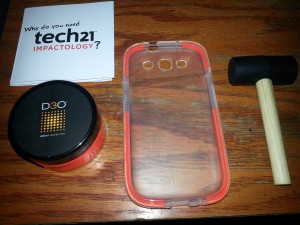 Now that the Tech21 case has become my favorite, I wish I had never wasted the time or money buying another case for my new Samsung smartphone. I highly recommend the Tech21 IMACTOLOGY cases to Galaxy S3 owners or anyone with a device that requires superior impact protection.


Samsung Galaxy S3 Impactology kit – it includes a clear impact shell G S III case, D30 raw material and a rubber mallet

Head over to the Tech21 website and tell me something you learned, liked, or want.

You can gain daily entries by doing the following. Remember each one you do counts for an extra entry. Be sure to leave a comment for each you do.
Example Tweet:
Enter to win a Samsung Galaxy S3 Impactology kit http://www.theneatthingsinlife.com/?p=12709 @Jammie79 #win #giveaways
Stumble any post
Comment on any post
Google plus any post
Like any post

I received above product for review purposes only, no other form of payment was received. This is only my honest opinion on the product, others will vary. Giveaway is open to US residents age 18 and older, and will end on December 18th, at 11:59pm CST. Winner will be drawn via the and the winner is plugin. The winner will have 48 hours to respond to the winning email, or a new winner will be drawn.