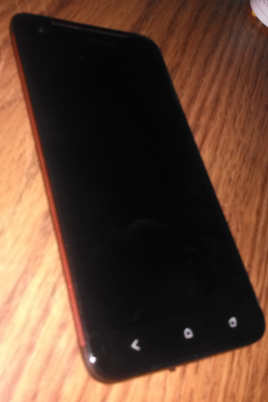 Six months ago if you were to tell me a smartphone would make my life easier, I probably would have called you a liar. When you're a one income family, you try to keep the bills as low as possible, and having a smartphone just wasn't really an option. We have always had cell phones, but they were limited minutes and we were only allowed to text. No fancy way to get online, and certainly not awesome apps to be downloaded.
Once I became an ambassador for Verizon I learned very quickly what all I was missing, and how much I did need a smartphone to make certain things I did in my everyday life a lot easier.
Here you will find the 5 reasons on how having a smartphone has made my life a lot easier.
1.) My smartphone has become my mobile cookbook. With apps such as pinterest and big oven, I am able to easily search for recipes, and cook amazing but also healthy meals for my family. No more running to a fast food joint, or cooking from the box. I can also easily do my shopping list using the Out of Milk app. This app will allow me to organize my list as well as put in price points and quantity, so I know what my total will be before ever getting to the register. No more over spending!
2.) The GPS function as well as Google Maps have allowed me to venture into areas I have never been. I have been able to find new places and still manage to find my way home. If we're planning a trip to Memphis all I have to do is type in the location and my wonderful phone helps me to get there quickly and easily. No more having to freak out because I made a wrong turn in the city. No more having to rush to be home before dark, so I don't get lost.
3.) Fun with no arguing! Having a smartphone allows me to have more fun. Hiking is very relaxing, but when you add a little treasure hunting in the mix, you have a fun family day out where everyone gets a little bit of exercise while enjoying themselves and the weather.
4.) Allows me to check emails on the go. I am very OCD when it comes to checking my emails, I check them hourly. Often times I find myself waking up in the middle of the night to check my email. A large portion of my days are spent online, either entering giveaways, doing reviews, looking up new and fun things to do homeschooling wise with my daughter, and of course chatting with friends and family. So having a smartphone allows me to spend more time off the computer and more time with the family. I have certain apps on my HTC Droid DNA that will allow me to check my emails where ever I maybe.
5.) With new technology advancing the cameras on smartphones are becoming a lot nicer. The picture quality on the Droid DNA is amazing! I have found I take more pictures now that I have a smartphone, I always disliked lugging my camera everywhere I went, and I often left it behind. Having a smartphone means I will no longer miss certain moments I want to cherish forever.
While this is only five of the reasons having a smartphone makes my life easier there's so many more. If in the past you have thought about getting a smartphone, but decided against it, for whatever reason, I would recommend you to rethink it. Having a smartphone may also help make your life a little less stressful.
Disclosure: I am participating in the Verizon Wireless Ambassadors program and have been provided with a wireless device and three months of service in exchange for my honest opinions about the product.