After getting Bones he quickly became a big part of our family. He is like our son, and when we go places he goes with us, when we sleep he sleeps in the bed with us, and when we eat well most the time he eats with us.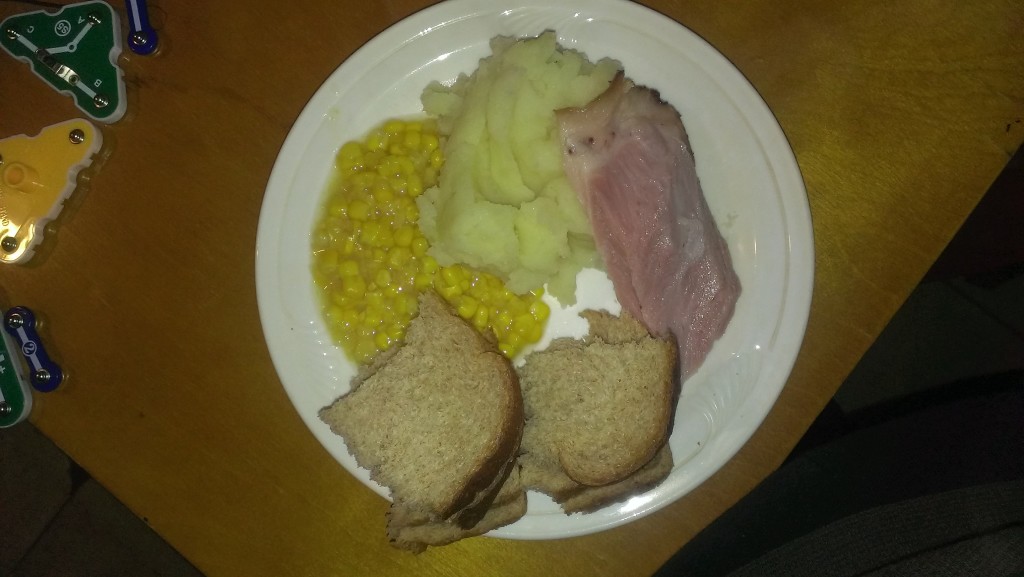 Bones Christmas dinner… Ham, potatoes, corn, and some wheat bread.
With dogs diets being different from humans diets we have to watch what we feed him, and we have to make sure he is getting all the nutrients he needs in his daily diet. So when I was asked if I would be interested in checking out Better Food for Dogs: A Complete Cookbook and Nutrition Guide
I had to say YES! I wanted to have a better understanding on how to properly cook for Bones.
One thing I loved about the book is it shows you what nutrients your dog needs for its size. It also has broke down into section the amounts of food you should good for your four legged friend.
Some of these recipes I would like to make for the whole family! Scrambled eggs and whole wheat toast, peanut butter cookies, and even texas-style chili!
Whether you have a 5lb dog or a 150lb dog there are recipes in this book that will give your pouch something healthy to eat besides his daily dog food. I am not a fan of eating the same thing more than once in a day, so I know my Bones gets tired of eating the same thing over and over again.
This book will come in handy for years to come, because I will be able to provide him with a healthy nutritious meal that I know he will love! If he don't watch it I might end up begging him for a bit.
Do you have a dog? What are some ways you make sure he is happy and content?