I have never kept my weight issues a secret here on The Neat Things in Life. I try to be open about them as much as I possibly can. I am ashamed of my weight and I can admit I am lazy. While I eat right, sometimes it takes a lot more than eating right. I am attempting to lose the weight, but it's hard and I get a bit discouraged when the numbers don't move as fast as I like and I start to over snack.
I like finding snack products that work with me not against me.
I was recently introduced to a snack that will work with me! Nutrifit high & mighty bar is not only 100% all natural, it's also a good source of fiber, has no trans fats, is gluten free, nut free, dairy free and packed with all the right ingredients to give me that boost of energy to get me moving.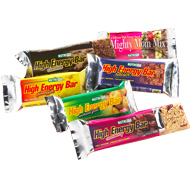 I found the bars to not only taste yummy, but also to be filling and I had a bit of a boost of energy. While I snacked on the bars I did find myself doing more.
The Nutrifit bars are something I would love to keep on hand, so when I start to feel hungry and sluggish, I can snack on one of the bars to help boost my energy levels.
While I know the high & mighty bar isn't going to prevent me from being lazy, it will give me more energy through-out the day to move more and we all know the more you move the more calories you burn, and the more calories you burn the more weight one will lose.
If you are like me and an over snacker with no energy these are the bars for you! Nutrifit high & mighty bars come in several different flavors and can be purchased on the Nutrifit site for $19.95 for 12.
Let Nutrifit help you tackle that weight once and for all.
I received product for review purposes only, no other form of payment was received.