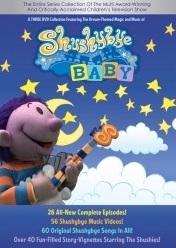 Being a mom it's important to find shows on the television that are appropriate for children their age. I am not sure how many times I would turn the TV on to a channel that was intended for kids and wonder how one could promote that as a child's show.
As my daughter got older more and more channels came out that geared towards the younger aged children. BabyFirst is one of those channels. BabyFirst is available on DirecTV, Dish Network and Comcast. This channel is America's destination for parent-child interactive entertainment.
I think when children are young it's very important they get this time with mom and/or dad. This not only is great for bonding but also helps with the child's motor skills, and also with the child's imagination.
I have always been a strong believer that a child should be allowed to let their imagination sore even if they do have imaginary friends.
Shushybye Baby is a great example of allowing children to interact with the television and allowing their motor skills to be at work! The all new season of ShushyBye Baby
will begin on Sunday, January 27th.
If you don't get BabyFirst, and would like to see what all the hype is about, when it comes to these love-able characters. You can purchase the Shushybye Baby DVD on the ShushyBybe Baby website for $29.98.
The 3-set DVD collection includes:
26 all-new complete episodes
56 Shushybye music videos
60 Original Shushybye songs in all
andt
Over 40 fun-filled story-vignettes starring the Shushies!
Do you have small children and have yet to hear about Shushybye Baby? Check them out below…
If you don't have the television service that the Shushybye Baby show comes on, and you have smaller children I highly recommend you purchase the 3-set DVD collection, your children will love it!
Since we don't have cable/satellite service I am glad to have the opportunity to check out such dvds so when my niece comes to first we have some great entertainment for her. I always love when she gets up and starts dancing and singing along with the television, makes me wish I had me a few more little ones running around!
One lucky reader of The Neat Things in Life is going to have a chance to win the Shushybye Baby 3-Set DVD Collection.
Make sure to check out Shushybye and BabyFirstTv on all their media outlets:
http://www.shushybye.com/
http://www.babyfirsttv.com/
www.facebook.com/shushybyeguy
www.facebook.com/babyfirsttv
I received product for review purposes only.