With Valentine's Day less than a month away it is time to start thinking about what you are going to get your sweetie. Photo Lockets make great personalized gifts for anytime whether it be Valentine's Day or Christmas. One problem with photo lockets is over time the picture wears out. When I was younger I had a photo locket and the locket came open and the picture inserted fell out.
Thankfully, technology is moving along pretty fast and now our favorite pictures can be placed in the locket by laser. PicturesOnGold.com has a nice selection of Valentine's Day Lockets with the Sterling Silver Heart Valentine Photo Locket being a new addition to their Valentine's Day Collection.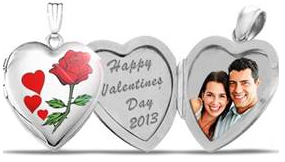 I have worked with PicturesOnGold.com in the past and I adore their lockets. I was lucky enough to get to work with them again. This locket is absolutely beautiful!
I am not one for having my picture taken, however, I knew I wanted a locket with my husband and I on the inside. So I sucked it up and got a photo taken of the two of use to have put on the inside of the locket that I will forever treasure.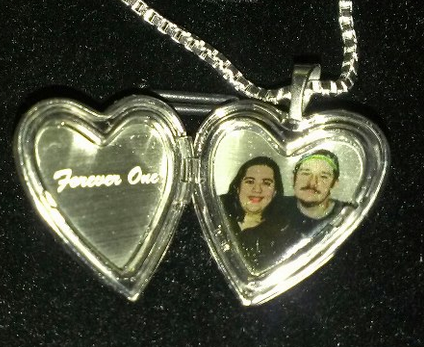 I had Forever One engraved on the inside as well, because no matter what life throws at my husband and I we will always be forever one. It's us against the world!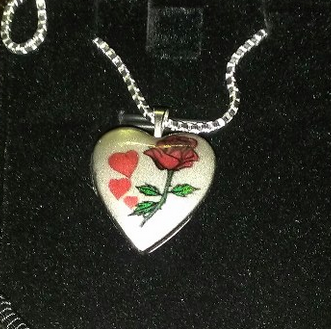 The above pictures do not do this piece justice. It's gorgeous, and I am very glad I decided to go with a photo of my husband and I together, this way when we are gone, our daughter will have something to wear around her neck and remember us by.
PicturesOnGold.com is offering all of you a 10% discount on any order placed between now and February 4th, 2013. Just use promo code Valentine2013 at the checkout. You will not regret your purchase.
One lucky reader of The Neat Things in Life is going to have the chance to own a Sterling Silver Heart Valentine Photo Locket with the 18in sterling silver box chain! Are you excited???
Be sure to check out PicturesOnGold.com on their social media channels.
Facebook | Twitter | Pinterest
I received a locket for review purposes only, no other form of payment was received.