Can you believe Valentine's Day is just two weeks away! Often times Valentine's Day is mistaken for the holiday for lovers. However, this is far from true. Valentine's Day is a day for people to express their love for one another. No matter if it's a friend, family member, or spouse. This year when it comes time to getting those Valentine's Day gifts ready for the kids to get those Valentine's ready for their friends, keep Crafty Bands in mind.
Crafty Bands are a unique gift that is for sure. One thing I love about Crafty Bands, is they're affordable, they inspire creativity and they encourage crafting. We are a family that loves doing crafts. This product allows one to do crafts, while being creative, and making unique charm bracelets. Thus, the reason they would make wonderful Valentine's Day gifts. Your child can make special charm bracelets for their friends.
We were recently sent a Craft Bands kit to check out for ourselves, and I have to say the whole process was simple.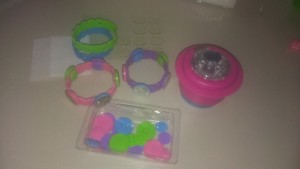 Each Crafty Bands kit comes with the cutter needed to make the images the proper size, and enough supplies to make 4 charm bracelets. We found the whole process to not only be fun but simple. We decided we wanted to print out images to make our bracelets. We made one of our puppy, and one of Hello Kitty.
I didn't see in the directions what says you should make your images. So we did trial in error. We found out the image should be about 65 x 65.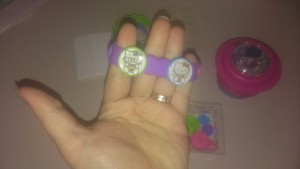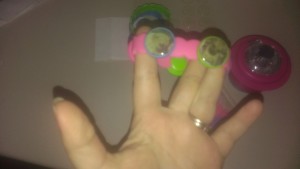 Before you head to the store to purchase those cheap Valentine's Day cards that will probably end up in the trash, order a Crafty Bands kit and let the kids make their Valentines unique gifts this Valentine's Day! Crafty Bands make great gifts for children age 8 and up. I would also recommend one to take off the bracelet when getting their hands wet, water will leak into the picture area. We love Crafty Bands!
A little more about Crafty Bands and where you can purchase the kits as well as the refill kits:
With Crafty Bands, kids are no longer limited to pre-made charms with pre-printed designs. Here's how easy it is to create a Crafty Band:

The Crafty Bands Starter Kit is priced at $29.95, and includes the Shape Studio Tool, four Crafty Bands, 20 Crafty Snaps, 20 Bubble Caps and adhesive. Refill Kits, including four Crafty Bands and 20 Crafty Snaps, are priced at $6.99.

Crafty Bands are available to order online or by visiting Paperwishes.com or Hearthsong.com. For more information on Crafty Bands, please visit www.craftybands.com and on Facebook.
We received product for review purposes only, no other form of payment was received.