I have never been a dog person. It wasn't until a few years ago, when I even took the time to consider getting a dog. I mean they poop in the yard, they shed, and they STINK. I am not one for the wet dog smell, yuck. However, being around my sister's dogs made me want one even more. So once we got back home we started looking for our forever friend. We finally found one about 2 hours from us, we gave our daughter a choice she could either take the money she received from her Nanny, and get a monster high doll, or she could use it for gas to go get the puppy. She wanted to use it for gas so off we went.
We came home with this little furball…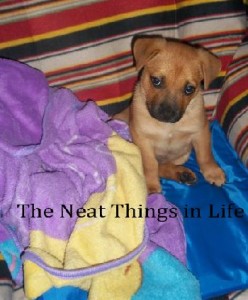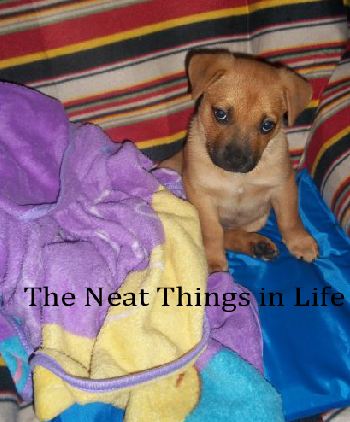 Look at that face! We all fell in love, one thing my husband said was HE IS NOT getting in the bed. Well that didn't last long because Bones sleeps with us every night, and if we don't let him in the room he will cry at the door.
One of the bad things about having dogs, is they're dogs. They run and play and sweat and stink, and stink some more, and sweat some more, and there is nothing smellier then a wet dog. Recently, we had the opportunity to check out the Gerrard Larriett Aromatherapy Treatment Experience For Pets.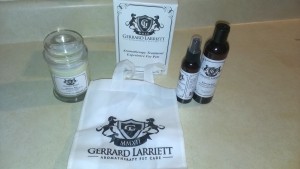 We were sent the rose scent. First thing I did was give him a shower, then a put a little spray on him and as he did his crazy run through the house he had everything smelling like roses. I found the product to not only clean Bones well, but also leave a nice fragrance other than the outdoor smell. One of my favorite parts about the product is it's all natural, and you can use it on dog or cat.
When we first got Bones I had purchased shampoo at the store for him, and on the back it instructed me to use gloves while bathing the dog. I new right away this wasn't the shampoo for us, I would rather pay a bit more and know that my dog is being cleaned with natural products, then with chemicals that could possibly harm him.
With Bones being an indoor dog that also sleeps in our bed it's important that he does stay smelling clean.
Gerrard Larriett products come in three different fragrances Happy Jasmine, Balancing Rose, and Relaxing Wildwoods. You can either purchase a kit which comes with the shampoo/conditioner, the fragrance, a candle, and a bag for $44.00. Of course you could also purchase the items separate, but when purchased together you get a little bit of a savings.
Now that Bones stays fresh and clean he can cuddle in bed with us and sleep well.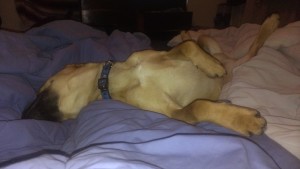 One lucky reader of The Neat Things in Life, is going to have a chance to pamper their beloved Dog or Cat.
Prize: $50 e-gift Card to be spent at Gerrard Larriett
Giveaway is Open to US Residents
We received product for review purposes only, no other form of payment was received.