Every since I can remember I have been a bigger person. I have tried many times to lose weight and I always get discouraged and sent into a depression. When you bust your butt only to see an increase in weight, it can become very discouraging. This always leads me to give up instead of pushing harder, and I always find all the weight that I had already lost.
With being such a struggler, I have found it to work better when I can see all the numbers. So when I was able to check out a scale that did more than measure my weight, I became hopeful. I was to see that although there were an increase in weight, it was muscle being built.
Recently, I have been given some great tools to help me along my journey to get fit. I cannot express enough as long as one has the proper tools they can get to their goals. I have about 150 pounds that I need to drop I know this is going to take some time but I can do it.
A few days ago I was able to add another great tool to my daily life to help me along the way to a skinny me. Verizon sent the Ambassadors a Fitbit Zip! When I had seen the email I was so giddy. I have been wanting a fitbit for awhile! Like I said earlier seeing numbers keep me motivated.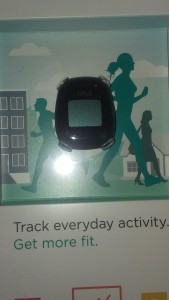 Not only did Verizon send us the Fitbit Zips they also had a webinar set-up to help us learn more about the Fitbit Zip and the other Fitbit products. I learned a great deal from this webinar and about the products currently being offered.
If you're in the dark about this amazing company let me explain a bit about them.
Fitbit started in 2007, while they started small they now have their products in more than 10,000 stores! Not all these stores are in the US, their products also work with other fitness applications, so you're not just limited to use the Fitbit app. How awesome is that!
Now that you have a better understanding about the company let me explain some about the Fitbit I currently have. The Fitbit Zip is small and comes with a casing that has a clip. This product can be clipped on your bra, your shirt, your pants, or you can wear it in your pocket. It comes in several different colors, and you can purchase other casings separately.  It measures the steps you take, the calories you burn, and the distance you have moved. This particular device doesn't measure your sleep or stairs you have walked but Fitbit does have other devices that do all that including more.
The Fitbit Zip currently only syncs with the Samsung Galaxy and the Samsung Note on the Android OS. However, you can sync it to a windows or mac computer. Once you have the syncing software installed as soon as you get close to the transmitter it auto syncs.
While having a Fitbit device is nice you don't need one to utilize the tools Fitbit offers on their site. Create an account and you can log your food intake, the exercises you did, and even track your weight. I also love that they allow you to do journal entries on the site. This I think helps see what moods you were in so you can get a good idea on what you eat and why you may over eat.
I am beyond excited to have the Fitbit Zip as another motivator to keep me going and to keep pushing myself.
I would also like to get the Fitbit Aria scale which will sync all my numbers the scales show. I am currently jumping off the scale I have now and quickly writing down the needed information.
If you would like to get the Fitbit Zip you can get $5 off by using this LINK. If you are looking for a motivator to help you drop some weight, I would highly recommend one of the Fitbit products so you can see the numbers in work. While I have along way to go, I am confident that I have some of the best tools I can have to help me reach those goals, in becoming a skinnier me!
What are somethings you are doing, or tools you are using to help you reach your goal weight?
Disclosure: I am participating in the Verizon Wireless Ambassadors program and have been provided with a wireless device and three months of service in exchange for my honest opinions about the product.