Did you know Mother's Day is only 3 months away! It always seems like life is going in fast forward mode. Seems like just yesterday we were all celebrating Christmas and the New Years. Often times I would love for it to slow down a bit so I can enjoy my family. With Mother's Day getting closer I have teamed up with Georgiana from Coupon Clippin Texan to bring you Mother's Day Delight.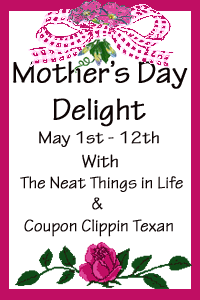 Often times moms get taken for granted. We are expected to cook, clean, and tend to the children. Not very often will we hear a "Thank you" or an "I appreciate everything you do". I guess since we are moms, everyone assumes it is our jobs, and there is no need for thanks.
Being a mom is one of the hardest jobs out there, some moms not only have to tend to the family, do the cooking and cleaning, but they also have to work outside the home. While being a mom is a delight, and I wouldn't trade it in for anything in this world, I could do without all the stress and a few more thank yous!
Georgiana and I are currently seeking sponsors to jump on board for the Mother's Day Delight event. Where we will showcasing great products that will show all those moms out there, that they are very much appreciated.
If you have a product you think would be a great fit please contact me. In the Subject field of the contact form put Mother's Day Delight.