Growing up we always lived in neighborhoods, but we also always had sidewalks. It seems now that the years have gone on, more and more people have populated the small towns we grew up in, and it seems as though they don't like following the safety signs.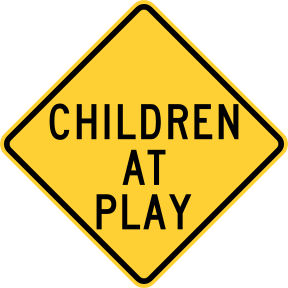 Although the city had plenty of signs up letting drivers know children at play, often times they would ignore them, and drive a lot faster than the allowed 25 mph. Yes, I have a lead foot and while I know going at such slow speed is a pain, I would rather go the speed then hit a child.
As a parent I know at times it's hard to have our eyes on our children when they're out in the yard playing, however, with people not following the street signs, it's important that we be out there supervising while they play. I would rather sit on the porch while my child runs around being silly, then have them outside where something life changing could happen.
If you happen to be to busy, have the children play in the backyard away from the road, or many when you are done with what you're doing you can take them to the park. When it comes to our children we can never be to careful.
Do you live in an area where street signs and parking signs are ignored? What are some steps you take to insure your child is safe while outdoors playing? We always make sure if we are not outside with our daughter she is in the backyard. We live by a curve, and the people that come around it FLY, and often times they fly around it in the wrong lane. I am waiting for a wreck and the people come flying into my home.
That is the one thing I dislike about living where we are, people need to learn to slow down, and follow the street signs, because like it or not, they're there for a reason.