When it comes to gift giving, I love giving out personal gifts. I have always felt the one receiving the gift would like the gift better than a store bought one. Something about personalized ones that make the one receiving appreciate the gift more, I think. For Christmas I got my husband a personalize coffee mug, and my daughter she got a personalized family photo for her room.
Treat's has recently introduced gift options to go a long with their cards. Once your card is complete, you can now send it off with personalized mugs, desktop easels, or even a gift card!
Their gift option has made gift giving that much easier!
Now that you know what types of gifts I like giving out what about you?
When it comes to giving gifts, do you prefer the more personal approach or would you rather just go to the store and make a purchase?
Another great thing I love about Treat is not only do you get to customize your card, and the personalized gift, they also send the product for you, so no more excuses on why you forgot to send out the gift. SCORE!
One lucky reader of The Neat Things in Life is going to get to check out the new gift giving option for themselves. How awesome is that! With Mother's Day, Father's Day, and Graduation coming soon, this is going to be one of those giveaways you must win!
Giveaway Prize:
3 complete Treat gifts – 3 Treat Cards and 3 Personalized Mugs plus standard shipping
Mandatory Entry: Visit Treat.com and comment your favorite card name and who you would send it to
One of my favorite cards would be Cowboy Logic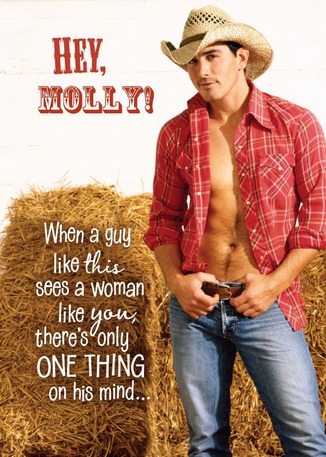 Everyone needs a little eye candy!
a Rafflecopter giveaway


I have received no monetary compensation for this post, however, I will be receiving the same 3 gifts.