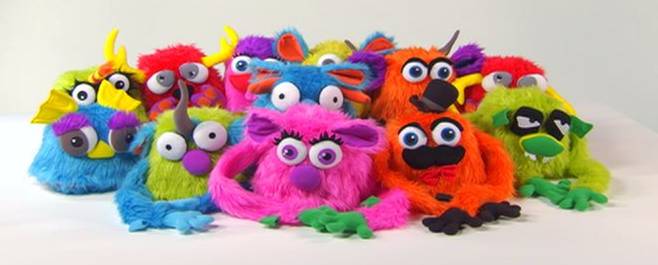 With being a mom, I love products that allow my daughter to use her imagination. Puppet Monsters is one of those products, with so many different ones to choose from, and the different accessories a child can use their imagination for hours on end. Not only is it a fun toy, but it's also a HAT! Two products for the price of one, what is not to love about this product.
My daughter sees all the seen on TV products before I do, so it was no surprise she already new about the Puppet Monsters before I did. When I got the opportunity to review a Puppet Monster I was excited. I knew this was a product my daughter would LOVE. However, I didn't know she already had seen it.
So when I showed her I was expecting a bit more excitement, instead I got… "Oh yea I seen them on TV, I was wanting one".
When the Puppet Monster came that is when we got to see how adorable these cute puppet hats really were!
We received Twinkley Eyes!
Not only is this puppet monster cute, and extremely adorable, it's also super soft!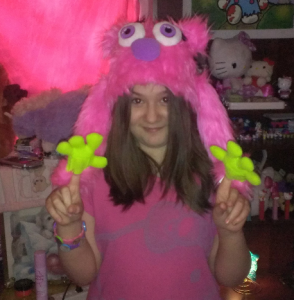 The hands are more of a yellowish then green.
I have to say one of my favorite things about this product, is that you can purchase different accessories, and easily change them out. Or if you didn't want the "monster" look you could take the accessories off, and have a plain fuzzy pink hat.
Do you encourage your children to use their imagination?
One lucky reader of The Neat Things in Life is going to have a chance to win a Puppet Monster of their choice so their child can also have hours of fun using their imagination!
Puppet Monsters can be purchased on their website for $19.95 plus shipping and handling.
Puppet Monsters Inspire Monster-Sized Fun, Creativity for Kids http://www.buypuppetmonsters.com – Use PROMO code PUPPET for $5 off!