How many of you have children in school? How many of you have children that get sick usually right after going back to school after summer break? My family don't like germs, and we do what we can to keep germs to the minimum, with being a work at home mom, my daughter has never been in daycare, and only around family. So germs are easy for us to keep them at bay.
When she started kindergarten, the germs came soaring in. It seemed like every time we turned around she was keeping sick. It wasn't because of the lack of germs she was around, but the lack of good hand washing from the kids at school.
We all know kids are not the best at keeping their hands washed.
The Healthy Schools Project by Kimberly-Clark Professional is designed to help not only educate students but also to engage them into building healthy hand washing habits. This will help stop germs in their track, keep children from getting sick as much, and to keep the teachers in the classrooms.
We were recently sent a Healthy Classroom Station and I have to say I love it!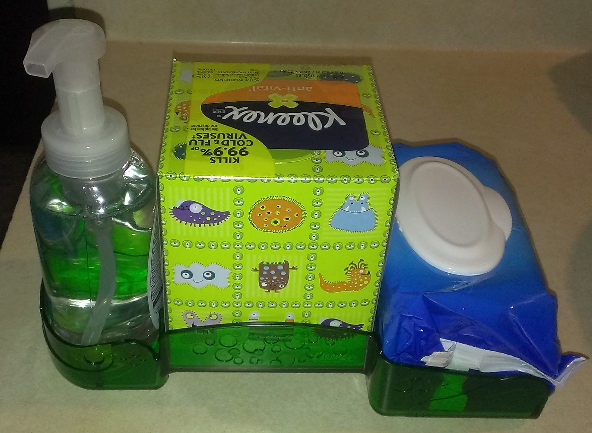 Healthy Classroom Station, including:
o Classroom Caddy
o KLEENEX® Moisturizing Foam Hand Sanitizer
o KLEENEX® Anti-Viral Facial Tissue
o SCOTT® Surface Wipes
· 1 The Healthy Schools Project* Brochure
· 1 Healthy Classroom Station Flyer
· 3 Germ-awareness Clings
· 1 Hand Washing Poster
The material in the kit will allow the teachers to show the students how important it is to keep their hands and workstations cleaned of germs, with less germs to spread it means less children will get sick.
Teaching good hygienes is a must, and I as a parent feel it should be started as early as possible.
While some will say blocking germs from your kids is a bad thing, I have to disagree, I feel keeping your kids as germ free as possible will keep the germs from breeding and spreading. This will in turn keep new germs from being produced.
While this will not kill germs completely, it will take away their playing grounds.
I also feel all classrooms, daycare centers, and Church nurseries should have a healthy station.
Kimberly-Clark Professional
products can be purchased on Amazon to help build those Healthy Classroom Stations.
Watch the video below to learn more about how germs in the school can effect your children.