My daughter spends a lot of time on Youtube. The time she spends though isn't looking up music videos it's looking up how to make things with polymer clay and doing your nails. Awhile ago she came to me asking if she could do water marbling, I was clueless on what she was asking, as the weeks went by she brought me a video showing me what she was talking about.
This is when I learned about water marble nail art.
After watching some videos on Youtube, my daughter and I set off to get the materials needed to do our nail art. We hit up a few different stores looking for nail polish
. I didn't want to spend a ton of money so we went with the NYC nail polish
.
Once we got home we got a warm glass of water and sat it out for a few hours, we then taped up our fingers and tried to do some marble water nail art.
Let me tell you this was messy! However, my daughter had fun so whatever. I would love to get some more nail polish and check out some different colors, and attempt to make some neat designs. Since this was our first attempt we bombed a few times and I only had a few nails that turned out good.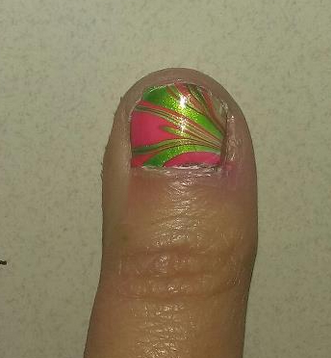 Since my daughter has smaller fingers hers were harder to do, while you can do it with small finger nails, it doesn't do as good.
Once mine grow out a bit more, I am going to try this again!
Have you ever done water marbling with nail polish?