With April being a month to celebrate all things Mother Nature, Balance Bar Company, has made a new line of energy bars. Balance Bar Dark line is the first of its kind on the market to bear the Rainforest Alliance Certified™ seal.
The Balance Bar Dark line come in three flavors Dark Chocolate Coconut, Dark Chocolate Peanut and Dark Chocolate Crunch.With the Rainforest Alliance certification, it lets the consumers know, the cocoa beans the company uses are grown on sustainably managed farms, which protect people and their surrounding ecosystems of water, soil and wildlife.
We need more companies that are looking out for our lands. The way we are going right now, we are destroying our lands at a rather fast rate. We need to find better ways to produce our products so our children are not left with a huge mess.
The new line of Balance bars are high in protein, and they're certified gluten free!
These bars were designed to follow the 40-30-30 ratio,(40% of total calories from carbs, 30% from quality protein and 30% from dietary fat), which is a proven formula developed by scientists. This formula was designed to help stabilize blood sugar, by doing this it helps one stay full longer, and helps then stay energized.
With trying to be healthier, I have a hard time finding snacks that will help me satisfy the hunger feeling and still keep me going. When I was asked if I would like to try the new line of Balance bars, I said yes. I like trying new products, and if I can find something that will help in my weight loss journey then I am game!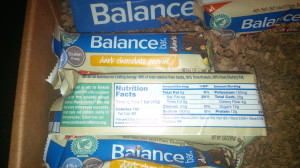 We received several bars from the Balance Bar Dark line, the three of us all tried them, and we all came to the same conclusion. These are the best energy bar that we have tried to date. They have the right sweet and chocolate mixture to help with the sweet tooth and to keep us going.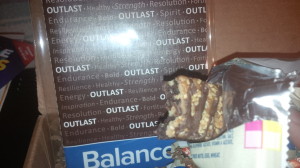 Not only did the bars satisfy my sweet tooth, it also allowed me to go on with my daily activities and not get extremely hungry.
I personally feel these would be great for those after workout snacks to help re-fuel your body. Our favorite was the Dark Chocolate Coconut!
Balance Bars can be purchased online, or you can find them at major grocery chains. Prices vary on where you purchase, but suggested price is $1.49 a bar.
One lucky reader of The Neat Things in Life is going to win an assortment of bars from the Balance Bar Dark line, so you to can have a chance to check them out.
Please note: One winner per household, email address or home address. If you have won this prize on another blog you are ineligible to win again.
Giveaway is open to US residents 18 an older.
I received product for review purposes only, no other form of payment was received. This is my opinion and others will vary.