With the warmer weather approaching, it means more and more sweat! Sweat not only is yucky, it can cause chafing. If you have ever had chafing, you know it's far from fun. With being a bigger person, when the hotter weather comes certain parts of my body start to get irritated and "Raw", this hurts bad, but thankfully I have found relief in over-the-counter powders.
However, while these products work for a short period of time, they're messy! When applying the powders, I think more ends up on the floor then in the places that I am aiming to protect.
Not only is a large amount wasted, it also clumps up! Who wants to walk around with clumped up powder, not I!
Recently, I was contacted to see if I would like to review a product that would not only protect me from chafing, but also keep me from making a mess while trying to protect my female parts from the elements, without making a mess, and keeping me protected through-out the day.
I knew I had to check out this product.
Dry Goods Athletic Spray, is designed to help keep all those body parts dry and protected. Thus, meaning no CHAFING!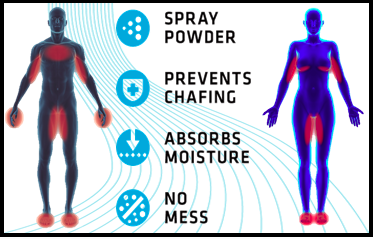 Dry Goods, come in two different formulas, original and menthol.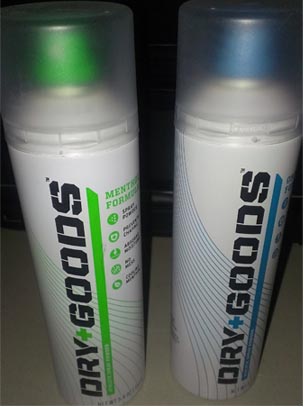 Some of the features of the product I like best include: no mess, spray powder, and that it protects from chafing. With having used a lot of different powder products to keep my skin protected, I have to say out of all the products I have used, I like the Dry Goods products the best. Not only are they more convenient, I found that they protected me better, and I didn't have the mess on the bathroom floor, as I do when using powder products.
I also found that the Dry Goods products, helped protect me longer than the powder products. I feel this was because the powder absorbs the moisture, which makes it clump or flake and fall off, leaving you yet again unprotected. Since Dry Goods doesn't clump you are not left unprotected.
Dry Goods products do cost a little more than your normal over-the-counter products, BUT at the end of the day, you get more for your money with the Dry Goods products.
Keep your skin protected this Summer by using Dry Goods Athletic Spray, you can purchase it on their site for $14 a can, make sure when you check out you use promo code Sprayin'TheNeatThings to get 20% off your order!
Coupon Code for Dry Goods Products:
Get 20% off Dry Goods products by going HERE and using promo code Sprayin'TheNeatThings
You can also purchase Dry Goods on Amazon:
(if purchases are made via Amazon, while using my link below, I will receive a small compensation from Amazon, no I won't get rich)