Let's talk Mother's Day guys! How many of you men out there are having a hard time coming up with the perfect Mother's Day gift for your wives, moms, or other female that's had a impact on your life?
PicturesOnGold.com has the perfect gift! Have you checked out their Mother's Day Jewelry!
With a wide selection of Mother's Day gifts to chose from, you are sure to find that perfect gift for those wonderful women in your life, whether you are looking for Photo Pendants, Photo Lockets, Photo Rings, or even earrings, PicturesOnGold.com has it all.
Recently, I was able to check out one of their  Mother's Day Photo Lockets!
I had one made for my mom, because I knew she would adore it.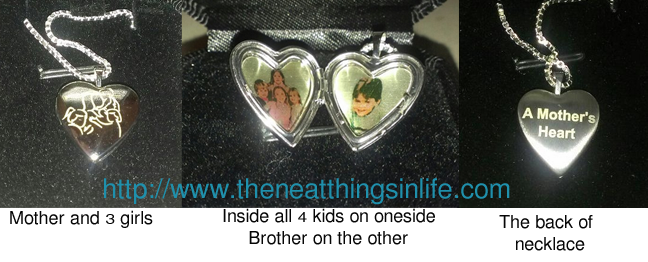 There's 8 different designs you can choose from…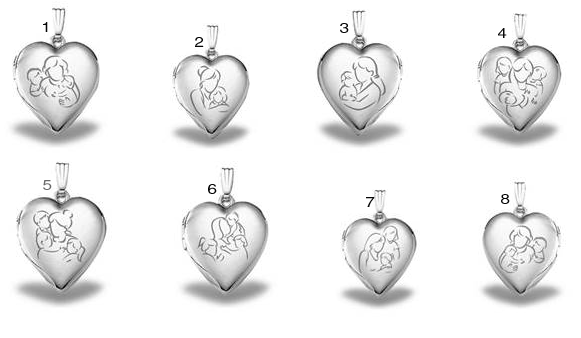 1. Sterling Silver Mom with Son and Daughter
2. Sterling Silver Mom and Daughter Heart
3. Sterling Silver Mom and Son Heart Locket
4. Sterling Silver Mom with Daughter and Two Sons
5. Sterling Silver Mom with Son and Two Daughters
6. Sterling Silver Mom with Three Daughters
7. Sterling Silver Mom with Two Daughters
8. Sterling Silver Mom with Two Sons Heart
While my mom has four children, I went with number six, which is a mom and three daughters. My brother passed away in 1988, so I went with a picture of all four of us kids, then a solo one of my brother.
One of my favorite things about the photo lockets, is that the images are inserted using lasers, this means my mom will never have to worry about the pictures falling out.
I know this Mother's Day gift is going to be a gift my mom holds close to her heart and one that she will cherish.
If you are still in search for that perfect Mother's Day gift you can still order your necklace and have it in time for the big day. If you use MOM13 you can also get 10% off your order, but you need to hurry this code is only good until April 30th and can be used on PicturesOnGold.com
One lucky reader of The Neat Things in Life, is going to have a chance to win a Sterling Silver Mother's Day "Mom with Children Heart" Locket along with an 18 inch Sterling Silver Box Chain valued at $164.90 + Shipping & Handling.
So who is ready to win their mom or wives the perfect Mother's Day Gift?
Giveaway is open to US residents 18 an older. If you are unsure how giveaways are ran here on The Neat Things in Life, please read the giveaway rules which can be found HERE.
Be sure to follow PicturesOnGold.com on their social media platforms:
Facebook  | Twitter | Pinterest
I received product for review purposes only, no other form of payment was received.