My family has cut back a lot on those not so good foods. However, finding healthy snacks, that taste good, can often be a challenge. We want a snack that will not only satisfy our taste buds, but one that will keep us full until our next meal. Recently, we were introduced to Sincerely Nuts.
We try to keep nuts on hand at all times. Not only are they good for you in small amounts, they also keep you full. Through-out the day when I get the urge to snack usually a few almonds, walnuts, or pistachios will do the trick.
I have to admit though, the pistachios are my favorite!
Did you know the pistachio nut have 6 grams of protein per serving, and that is one of the reasons they help keep you full longer. They also provide us with 3 grams of our dietary fibers.
With living a healthier lifestyle I have comes to learn nuts are a must in your diet.
If you have a love for pistachios like my family you will also love Sincerely Nuts! With several different flavors to choose from, you are sure to find a flavor that will have you looking for more.
We went with a flavor we new the whole family would love GARLIC!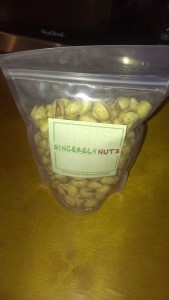 We love garlic, usually when we cook we always add fresh garlic. Garlic is also extremely good for you.
Once we received the garlic pistachios from Sincerely Nuts in the mail, we quickly opened the package. I had to try these pistachios. With never having had flavored pistachios before I wasn't really sure what to expect.
When I opened the bag I could smell all the garlic yum-ness and once I tried one, I didn't want to stop. The flavor was so out there, even after I was done with my snack I was still tasting the Oh.My.Goodness flavors.
My husband and daughter also felt the same way.
We had friends over at the time of our sampling and they do loved the garlic pistachios from Sincerely Nuts. I do believe the response they gave were "oh my these are so good". They made the remark they had never had a pistachio with such flavors.
Sincerely Nuts stand behind their products and they do encourage you to let them know if you are not satisfied.
Their pistachios range in price from $7.99 a pound up to $14.99 a pound and of course they come in several different flavors. If you're not looking for pistachios you can always check out all the other great products Sincerely Nuts has to offer.
We received product for review purposes only, no other form of payment was made and this is only our opinion. Others will vary.