Losing weight is a challenge if you don't have the proper tools. Sure you can find things around the house to get a workout, but you will not lose weight, if you don't control your portions. Yes, you can workout more, and burn more calories, but chances are if you are a bigger person like me, you would much rather drop some of your daily calorie intake.
If you have a mom looking to live a healthier lifestyle, get her the EatSmart Precision Elite Digital Kitchen Scale
, this Mother's Day!
Recently, I was sent the EatSmart Precision Elite Digital Kitchen Scale to help me with learning proper portion control. I have been a struggler all my life with my weight, my biggest mistake, is skipping meals. If you've been following The Neat Things in Life, you know I am doing the 70 day Journey Gym Challenge. With this challenge, I am required to workout every day for 70 days, I am sent tips and such to help me along my journey.
I have learned so much, and I know I have a lot more to learn. One thing I have found out, is I can keep my calories down with portion control. I don't have to stick to a 1200 calorie diet, but I do have to know how many calories to eat at one time, and to make sure I am consuming more protein then carbs.
The EatSmart Precision Elite Digital Kitchen Scale weights 1.9 pounds, and has 4 different measurement modes. You can measure in grams, ounces, kilograms, or pounds. With this scale you can measure up to 15 pounds, which would also be great for one who mails a lot of smaller packages.
One thing I loved about the scales is I can set a bowl on the scale, and press the power button, the scale will set as if there is no weight on it. Then I can add my food into the bowl. The scale also comes with a common food book, which will show you how to properly get the calorie count.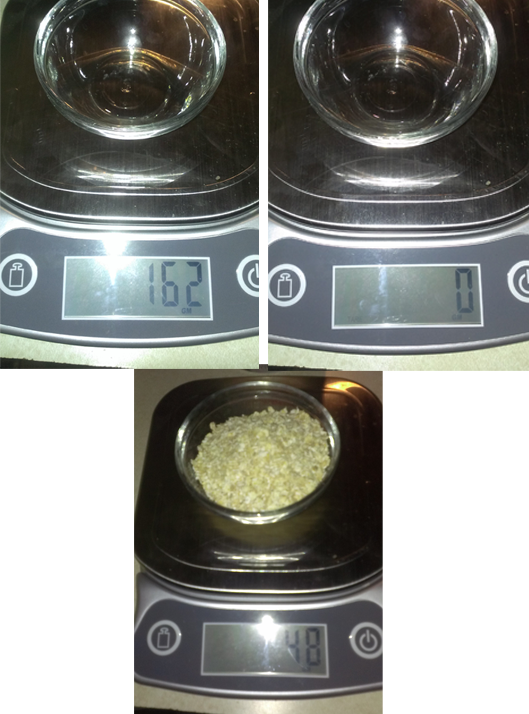 For my bowl of oatmeal, I had to figure this one out on my own, the book has serving size packs. On the back of the oatmeal it shows 40g is a serving and it would be 150 calories, a little math and I found out that in each gram there is 3.75 calories, so to figure out how many calories my bowl of oatmeal has I would take 3.75 and times it by 48, the calories in a plain bowl of oatmeal with nothing in it would be 180 calories.
I love how accurate the scale is, and that it's easy to use. I know with my journey to finding the skinny me, this scale will come in handy! If you know a mom who also is trying to have some portion control in her life the EatSmart Precision Elite Digital Kitchen Scale would make a perfect Mother's Day gift. You can purchase the EatSmart Precision Elite Digital Kitchen Scale
on Amazon for $39.95 with free shipping.
Make sure to also follow EatSmart on Facebook to stay up to date on new products, and on any specials they have going on.