If you follow The Neat Things in Life, you know I am working on losing weight, and becoming fit. Often times, gym memberships can be costly, and if you're a heavier person, chances are you feel ashamed, or embarrassed, so actually going to the gym maybe out of the question. However, thanks to come great sites, you can get fit in the comfort of your own home.
You don't need the costly gym equipment, you just need time, and direction. I was recently, introduced to a site called The Prime Method. The Prime Method is a digital mobile personal training gym that hits upon the three core philosophies: Move, Mind and Munch. This site makes it easier for those looking to workout and get fit do so, without having to go to the gym, and one great thing about this, is you can do it pretty much anywhere as long as you have an internet connection.
However, theres more to The Prime Method then just being a mobile gym, not only do they offer online workout classes, they also have meal planning, recipes, and life coaching, so that you to succeed in your journey to becoming fit.
The Prime Method has a few different plans you can choice from, you can give it a try for one penny for a week, and if you like what you see, then you can purchase either the full access plan for $29.99 a month or the full access plus unlimited live streaming for $39.99.
MOVE – Creative & efficient workouts custom designed for you; MUNCH – Delicious meals detailing what, when & how much to eat; and MIND – Optimal strategies for improving sleep, mood & overall lifestyle.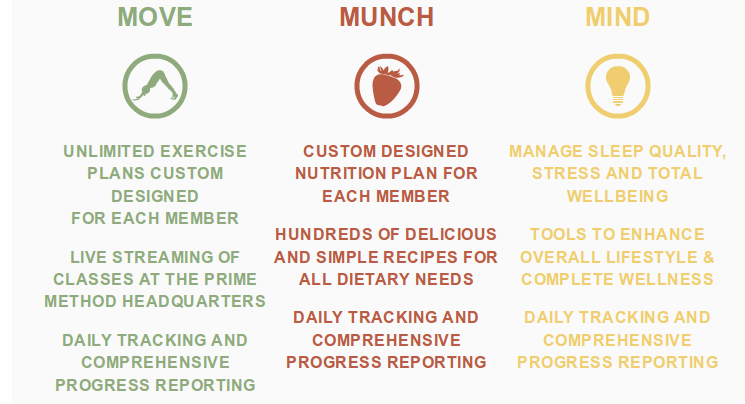 Getting fit doesn't have to come at the cost of your embarrassment, with programs such as this, you can work on becoming a healthier you in the privacy of your own home. Don't be a couch potato for the rest of your life, do what I did and take the stand.