Nature Made provided me with free samples.
As we get older our bodies change, and the once nutritious meals, our moms once feed us are no more. If you are a busy mom, you can probably relate, we make sure our families are fed properly, but when it comes to feeding ourselves, we reach for products that are quick and easy. Chances are they don't have the vitamins your bodies need to stay healthy.
Thankfully, we have supplements that can help give us the vitamins our bodies need. Recently, I was introduced to a vitamin that makes me excited to take vitamin supplements! VitaMelts, are tiny vitamins that melt in your mouth, and taste great! No more chalk tasting vitamins for me.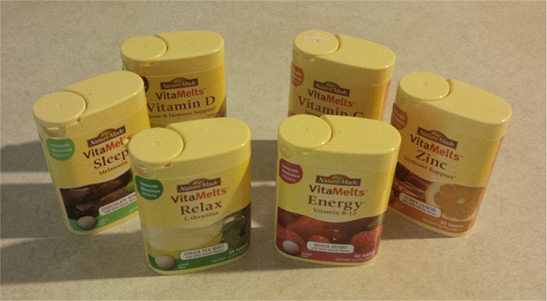 VitaMelts, come in six natural flavors, and helps us busy moms get in some of our daily vitamins.
These statements have not been evaluated by the Food and Drug Administration. The product is not intended to diagnose, treat, cure or prevent any diseases.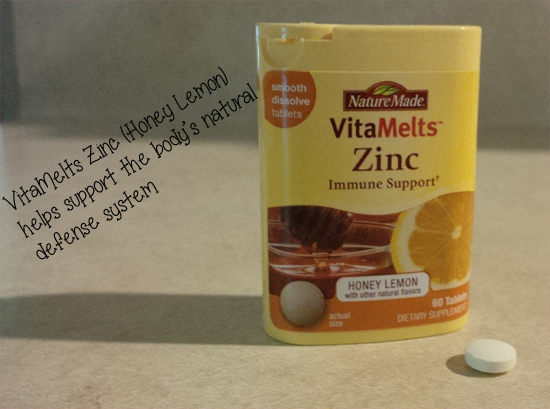 Zinc
Being a mom, I cannot afford to get sick. By taking a zinc vitamin, I can help keep my body protected against those nasty colds.
Zinc, helps support your body's natural defense system , and plays a vital role in your vision, fertility, skin, hair, and even your nails! Zinc can be found in many things we eat such as red meat, seafood, fish, poultry, and even dairy products.
With having the Zinc VitaMelts close by, you are sure to get your daily dose of zinc. If you are trying to conceive, and are having difficulties, you maybe lacking zinc in your diet!
Vitamin D
With old age comes brittle bones! Vitamin D, plays many roles in ones diet, it helps promote strong healthy bones, as well as helps absorb calcium. If you don't get a lot of sunlight, chances are you have a Vitamin D deficiency.
Vitamin D deficiency has been linked to several different kinds of cancers, as well as depression and weight gain.
Vitamin C
Vitamin C, helps protect us against respiratory infections, cardiovascular problems, and even skin diseases.
Those who have a Vitamin C deficiency have a better chance of developing skin diseases, and bleeding of the gums.
Vitamin C also helps keep us from getting sick as easily.
As you can see each of the above vitamins play an important role in our everyday health. By making sure we have the recommended amounts in our system, we are less likely to get sick, and we will lead a healthier life.
There's also VitaMelts, to help us sleep better, relax, and feel more energized!
These statements have not been evaluated by the Food and Drug Administration. The product is not intended to diagnose, treat, cure or prevent any diseases.
Sleep
As we grow older, our sleep patterns change, and we tend to have a large change in our sleeping. This can cause one to have a melatonin deficiency.
Melatonin deficiency has been linked to diabetes, bipolar, depression, and even sycophantic disorder. In order for our bodies to re-fuel, it's important we get a good nights rest, if you're having a hard time sleeping at night, you may have a melatonin deficiency.
I have found the Sleep VitaMelts, to work wonders! My husband and I both have taken these, and within about 15 to 20 minutes we were out, we woke up refreshed the following morning. With having both worked the 3rd shift we tend to stay up into the wee hours, which isn't healthy for your body.
Lack of sleep can also cause one to have weight gain.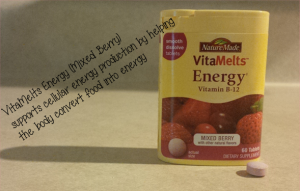 Energy
Gives you the boost of B-12 your body needs, to convert food into energy. Vitamin B12 is essential to the production of red blood cells. Red blood cells, are the cells that carry oxygen through the blood to the different tissues in our bodies.
Many have a b12 deficiency, especially vegetarians and vegans. Those who have a deficiency will have symptoms such as feeling tired, bruising easy, rapid heart beat, and even have a pale look to them.
If you feel you're not getting the b12 your body needs, you should consider taking a b12 vitamin such as the Energy VitaMelts.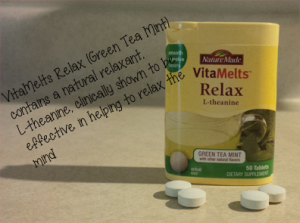 Relax
We all can feel overwhelmed from time to time. Relax gives our bodies the L-theanine, it needs to relax. It has been clinically shown to help relax the mind.
Theanine, has been used to help with anxiety and high blood pressure. By taking a L-theanine supplement, you maybe able to help reduce the stress, depression, or anxiety you maybe feeling.
One thing I like about the VitaMelts, is they do taste good. I also like that they're in small containers, and will fit in a purse or bag.
Being able to grab VitaMelts through-out the day will ensure, my body is getting the needed nutrients it needs to stay healthy.
If you know a mom that maybe lacking in the vitamin department, this Mother's Day get her some VitaMelts, for her dose of on the go vitamins!
You can purchase VitaMelts, where Nature Made products are sold. Make sure to click here to get a coupon for your favorite Nature Made products.
Make sure to visit the VitaMelts hub on Facebook where you will be find more information about the products as well as interact with the VitaMelts products.
These statements have not been evaluated by the Food and Drug Administration. The product is not intended to diagnose, treat, cure or prevent any diseases.