Now that Mother's Day is behind us, it's time we start thinking about Father's Day. Recently, I was introduced to a company, that not only has great gifts for dads, it also help charities I feel strongly about. With my own Father in law passing of cancer, I like to see charities that are geared to help those that are battling the deadly disease.
When making a purchase from Ford Cares, you will be able to select between four different charities on which your purchase donation will go to. The four charities are as followed: Susan G. Komen for the Curear. Susan Love Research Foundation (DSLRF), The Pink Fund and the Young Survivor's Coalition (YSC).
Ford Cares, has several different items to choose from, an they have products for both him and her, and a few of the products are geared for both sexes. With liking to wear my husband's clothes, I went ahead and got the Time to Fight T-shirt Inspired by James Denton.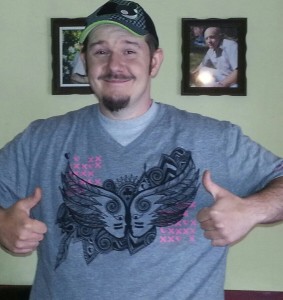 I loved the design, and had every intentions on taking the shirt from him! This is one of their unisex products, so it knew it would look great on me as well.  The shirt is made with a thinner material, which would make it a great shirt for the summer months, not to thick, and not to thin.
When thinking about what to get those dads this Father's Day, think about Ford Cares, not only would you be making a dad very happy, you will also be helping a great charity.
You can read more about Warriors in Pink, and Ford Cares by visiting the Ford Cares website.
Show your support and wear pink!