There are countless puzzle games available for the Android operating system, but there are some titles that make it hard for players to put their device down. Candy Crush Saga does exactly that, and more.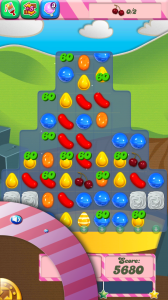 Familiar Game-play with an Original Twist
Candy Crush Saga is obviously inspired by games like Bejweled, but it takes flip n match gaming to a whole new level. There are bonuses that are also similar to other games, but there are some new ones as well. One of the most addictive aspects of the game is its challenges. Many levels must be completed within a specified number of turns. One of the bonuses allow players with extra turns at the end of around to gain a tremendous amount of bonus points once the level is beaten.
Some other challenges require you to complete levels within a time limit, and some levels have areas with transparent jellies that must be cleared to progress to the next level. Another challenge uses foods such as cherries and others that must be dropped to the bottom of the board.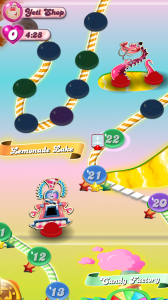 A Puzzle Game with a Storyline
With a style of game-play that's been cloned a thousand times over, Candy Crush Saga keeps it fresh with a fun little story to follow along the way. This is the first puzzle game I've played with a plot, and the board game style level progression is also a credit to the game's entertainment value.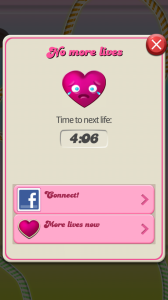 Addictive Mobile Gaming with Boundaries
Unlike similar games on the market, Candy Crush Saga makes it difficult for players to stay glued to their smartphones for too long. The levels are quite challenging, and you're only given lives every 30 minutes. You begin with 5 lives, but it takes 2 and a half hours to accumulate 5 more once they are gone.
Players that can't wait for their Candy Crush fix can either wait patiently, or they can purchase extra life slots to hold a whopping 8 lives at a time. The developers came up with an excellent way to get people hooked, and churn out some profits. These are two of the most essential elements to any successful mobile game.
If you have nothing better to do than play Android games all day, you can do everything it takes to keep playing. If you're someone with a busy schedule that enjoys challenging games, however, then you'll find the boundaries in Candy Crush Saga delivers addictive puzzle gaming in short bursts.
Whether you prefer to play for hours or just a few minutes at a time, Candy Crush Saga is a fast paced, addictive puzzle game that serves up a big helping of variety to mobile gamers. Candy Crush Saga is free to download on the Google Play Store.