Wranglers have long been my goto jeans for doing yard work, repairs around the house and working on the car. I was surprised to see that Wrangler doesn't just make rugged work jeans anymore, but they also make cool looking casual wear that offer comfort and fashion for a reasonable price.
The relaxed fit jean shorts are super comfortable, and still rugged enough to provide the durability that Wrangler is known for. If you're a dad like me that wants to be comfortable, but does a lot of things that's hard on your clothes, Wrangler's relaxed fit jeans are a great Father's Day gift to ask the wife and kids for.
If you prefer to mix things up a bit, Wrangler doesn't just make jeans anymore. Their relaxed fit cargo shorts are a breath of fresh air in the summer heat, if you catch my drift They are thinner and lighter than jeans, but they have thick cargo pockets with double stitching to stand the test of time.
The relaxed fit jean shorts have the watch pocket on the right that I like, but the cargo shorts come with an all new feature that's very appropriate for the mobile technology era.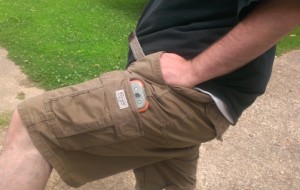 Wrangler's cargo shorts have a specially designed pocket to hold your mp3 player or mobile device for quick and easy access. It's called the tech pocket, and it's a mobile phone sized slot on the left cargo pocket of the shorts. I thought this was a really cool feature, and it's nice to see that Wrangler is offering clothing for today's tech-centered lifestyle.
Wrangler's new jeans and shorts have opened my eyes about all the great new clothing styles available from their company. Whether you're looking for rugged work clothes or nice looking casual wear this Father's Day, Wrangler shorts will make the perfect gift for Dads that want to stay cool and comfortable.