JACK's is inviting pizza lovers across the country to enjoy their favorite flavor of JACK's pizza on the family grill. Just like a lot of people, I've never had grilled pizza before. I think it's a great new way to enjoy pizza, and the perfect way to get families together outside this summer.
JACK's Summer Grilling Sweepstakes
In celebration of the summer grilling season, JACK's is offering pizza lovers a chance to win a backyard makeover that includes: 1 set of patio furniture, indoor/outdoor speakers and a JACK's Pizza grilling kit. On top of all that, the Grand Prize winner will also receive $1,000.00 to complete their backyard makeover by buying a brand new grill. The contest is running until July, 29th, which gives everyone time to head on over to the JACK's Frozen Pizza Facebook page to enter JACK's Summer Grilling sweepstakes.
JACK's Pizza Review
Representatives of JACK's Pizza recently sent over a few free pizza coupons, and since we had never had JACK's Pizza before, we had try one for ourselves.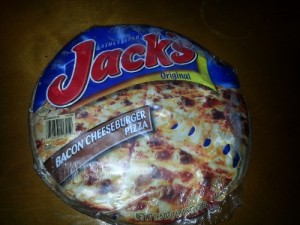 As a native of Memphis, a city that's well-known for its yearly BBQ competition, I'm sworn to never use a gas grill. Never the less, we decided to cook our JACK's Pizza in the toaster oven.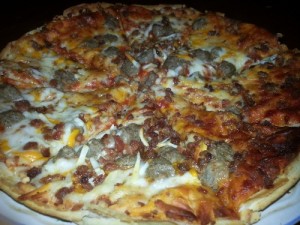 We tried the bacon cheeseburger flavor, and it was packed with toppings despite the lower cost of JACK's Pizza. As a matter of fact, the value of the coupon was almost double the prize of the pizza because it was on sale. Our overall opinion of JACK's pizza is that it tastes great, it's affordable for the family budget and has a lot of toppings for the price.
Although we made our pizza in the toaster oven, it's just as easy to cook a JACK's Pizza on a gas grill. With the burners on low and grill lid closed, preheat the grill to 400 degrees. Remove the pizza from the wrapper, and take it off the cardboard insert. Put your JACK's Pizza directly on the grill grates, and wait until it's hot and bubbly in the center. As with all frozen pizzas, it should be cooked to an internal temperature of 165 degrees before eating.
All of JACK's Original flavors can be prepared on a gas grill, and we're giving our readers the chance to win two coupons to get two Free JACK's Pizzas for themselves. Just take the manufacturer vouchers to your local grocery story, and you'll be able to choose from the following JACK's Pizza flavors:
Sausage
Sausage & Pepperoni
Pepperoni & Mushroom
Sausage & Mushroom
Hamburger
Bacon Cheeseburger
Canadian Bacon
Mexican
Spicy Italian
We want to encourage everyone to get outside with their families, and to grill up some delicious JACK's pizza over the summer. Be sure to enter the JACK's Summer Grilling sweepstakes on Facebook and our Rafflecopter Giveaway below. Good luck to all the participants. After you enter, be sure to go grab yourself a JACK's Pizza from your local supermarket or convenience store, and try grilling some JACK's Pizza for yourself!