With being home schoolers we are always trying to find fun things to do with our daughter. Whether it be swimming in the pool, or sitting at the family table for a nice fun game. Recently, we were introduced to a game that would not only bring us hours of fun, but hours of laughing.
Gooey Louie is that fun game that will allow our children to do what we tell them not to! How many times have you yelled to your child to get their finger out of their nose, it was nasty. Well with Gooey Louie, you will be encouraging your kids to dig deeper.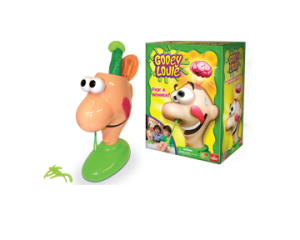 Gooey Louie is for ages 4 and up, and can be played with as little as two players. Playing is so simple even the 4 year olds will understand. Roll the die, and follow what the die tells you, if you get a number you get to dig up Louie's nose and pull out that many gooey's, watch out though, pulling the wrong one, will cause his eyes to pop out, and his head to explode.
We were sent a game for review purposes, of course after seeing the video we had to check the game out, don't believe me… Watch the video for yourself, so you can see how fun the game is…
Anyways, after receiving the game in the mail, we couldn't wait for game night, we headed to the kitchen table, opened the game and got digging.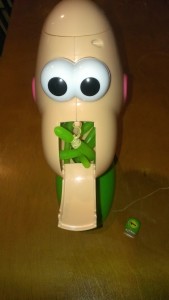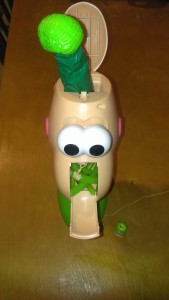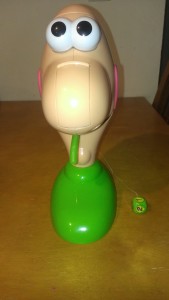 This game is the perfect game for younger kids, with the older ones they like to dig until they find the rubberband! So if you just shove all the gooey's into Louie's nose, it will be harder for those sneaky older kids, and the fun will begin.
Gillian thought the game was pretty neat, I wish there was more gooey's so the game would be a bit longer. However, over all this is a fun, creative game that all members of the family will enjoy. Often times it can be hard finding a game that the smaller children will stay focused on, I personally feel this is one of those games, that will have the younger kids begging for more, I mean who doesn't like picking their nose at a small age.
Gooey Louie, can be purchased at K-Mart, Meijers, Toy-R-Us, Target, and on Amazon.com
prices will vary depending on where you purchase.
Make sure to follow Goliath Games on their Social Media pages so you can stay up to date on all those neat games that come out!
Website | Pinterest | Twitter | Facebook | Youtube