When it comes to the kitchen, I have a love hate relationship. I love the baking and cooking part, but hate the cleanup part. Two of my least favorite things to do around the house, is dishes and laundry! Dishes because I am not a fan of dish water hands, and laundry because I dislike the folding and putting away part.
Recently, I was sent some products to make my job in the kitchen a lot easier, from the cooking to the clean up, I can now have a more love relationship with the kitchen. Grandway, carries all those fancy kitchen gadgets, such as gloves, aprons, brooms, pot and pan holders, and even magnetic key finders.
One of my favorite things about Grandway, is their products are super cute, and their products match. We received the Apron – The Audrey – Black Floral, Gloves – Red / Black Polka Dot with Black Bow, Pot Holder / Oven Mitt Set – Black Floral with Black Trim, and the Bonjour™ – Crown.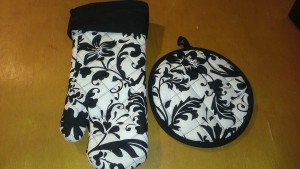 I have had many different styles and brands of pot holders and oven mitts, and I have to say these are by far the best I have ever had. They're well made, and super thick, I don't have to worry about burning my hand when I go to pull something hot from the oven. With my daughter getting older she is wanting to cook more, these oven mitts give me the reassurance that I need to allow her to cook without having to worry about the oven mitt not doing its job.
I also love the cute pattern!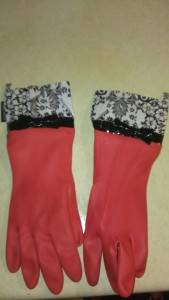 I am not the kind of girl that likes to get my hands dirty. When it comes to cleaning, even though I have running water, I cringe when nasty food gets on my hands. I have purchased the yellow gloves from the store only for them to rip when I go to put them on, talk about a waste of money. Not only are the gloves from Grandway super cute, they're also super durable, easy to put on and take off, and I can do everything from washing dishes, cleaning the toilet, to even working in the yard with these gloves, and they match my oven mitts, and apron!
In order to be the best at something you have to have the proper tools, right?
With my daughter wanting to learn to cook, I gave the apron to her, the apron is also well made, I love the button in the back, makes for a more comfortable wear. My daughter loved the pockets, see if I get her the gadgets she needs at a young age, she might be doing all the cooking and cleaning before to long! I call this a win for mom. :)
Let's not forget the magnetic key finder! While I don't carry a purse now, when I did this would have came in handy. When you have a big purse everything will get lost in it, so having a powerful pretty attached, you won't have to dump everything out, to find those keys.
Not only does Grandway have adorable products, they have affordable products. Products that will last you longer than a year, so no more buying cheap products thinking you're saving a buck. Purchase products that are made well, and you WILL get your monies worth.
Shop Grandway for all your fashionable kitchen gear.