I am participating in the Verizon Wireless Ambassadors program and have been provided with a wireless device and three months of service in exchange for my honest opinions about the product.
I have had the new device for a few days now, are you excited to learn what the new device is? The new device is the BlackBerry Q10!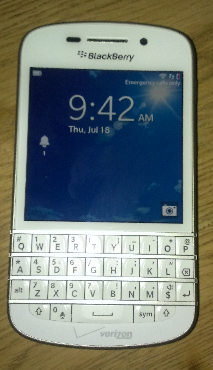 Look at how pretty it is! I am still playing around with it and learning more and more about the device as each day passes. I have learned how to take screenshots, I don't believe the Z10 had away to take screenshots, I am not seeing a big difference between the two devices, except the keyboard.
I am a fan of the oldschool keyboards, the Q10 reminds me of my first texting phone, which was a Palm Treo.
The screen size is a lot smaller, however, if you are more of a business person, this device is perfect, specially if you are a texter. I can honestly text faster on this keyboard verse a virtual keyboard. When my 11 year old was checking out the device, that is one thing she also mentioned was the keyboard, she said it's a lot easier to text with this phone verse her phone.
I am excited to bring you more updates as the months go on, I will be attending a webinar on Tuesday to learn more about the BlackBerry Q10!