I received product for my honest opinion.


I  happen to be one of those people who dislike cleaning, I love a clean house, but when it comes to cleaning that just isn't my thing. It isn't just the cleaning that annoys me, it's the price of the cleaning products as well. If you have been the primary person in your home to make all those purchases then you know what I am talking about when I say the prices.
To get the good name brand products you pay a pretty penny! Thankfully, stores are coming out with their own line of products that do the same great clean-up job for a fraction of the price.
CVS has just rolled out their new home care product line called Total Home. Total Home is geared to give you a savings of 15 to 20 percent off your cleaning products, all while still keeping the same great quality as name brands.
With 150 products in the Total Home line you are sure to find everything you need to take the sting off your wallet while keeping a nice and clean home. All Total Home products undergo several quality tests, to make sure you are getting quality products for your money, if you are not satisfied CVS/pharmacy even offers a 100% money-back guarantee, CVS knows that your hard earned money is important to you, so they want to ensure their customers are 100% satisfied!
I was recently sent an assortment of Total Home products to test out myself, to see how I think they compare to the leading brands.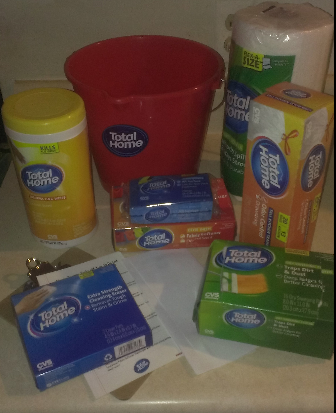 Below you will find the products I was sent to test out and what I thought about the product.
Total Home Dry Sweeping Cloths – With having two dogs that shed a lot, we dust often. I found the Total Home Dry Sweeping Cloths to be just the right product to keep the home entertainment center dog hair free.
Total Home Disinfecting Wipes – We are a family that likes to keep germs at bay, so we tend to use a lot of germx, having the Total Home Disinfecting Wipes at out our disposal is a blessing, we have purchased wipes like these in the past, but the price of the leading brands are so high, they're not on our everyday cleaning product list.
Total Home Extra Strength Cleaning Eraser – Ever get a scuff on the floor and had a hard time getting it out? You were told to get the Mr. Clean Eraser because that would do the trick. However, when you went to the store and seen the prices you couldn't bring yourself to make that purchase. Been there, done that, having store brand products that are not only cheaper but do the same great job is a plus for busy, penny pinching moms like me.
Total Home Scrub Sponges – I don't know how many dish sponges I have purchased in my life, I finally got tired of wasting money and just started making my own, and washing them. I found the Total Home Scrub Sponges to hold up a bit better than some of the name brand ones. Nothing I dislike more when it comes to cleaning and having to throw away a sponge when I only used it a few times. Being a penny pincher that I am, I like to get my monies worth out of the products I use.
Total Home Quilted Paper Towel – You might think all paper towels are the same, but truth be told that is far from the truth. Not all paper towels are the same, when you purchase the cheaper ones, you need more to get the job done, I found the Total Home Quilted Paper Towels, to work like the leading brands. When I first used some I ended up using more than I needed, because I didn't think I could get the job done with only a few sheets.
Total Home Tall Kitchen Odor Control Trash Bags – I dislike trash bags, whenever I purchase these, I see myself throwing money away, because the trash bags go to the dump. Yes, I understand I need them if I don't want a house full of trash. So when it comes to trash bags I try to go with the cheapest, that I can fit a lot of trash in, and not have the nasty smell of trash. Being in the hot South odor control is a must, I actually loved these trash bags, and I wish I had a CVS closer to me, because these would be my main trash bags.
Total Home Fabric Softener Sheets – Everyone loves to have fresh clean smelling clothes, but not everyone wants to spend big bucks to make it happen. I always try to shop products that are on sale, but then again you end up having to use several to get that yummy smell you want. I loved that the Total Home Fabric Sheets, did the job with only two instead of many.
Over-all I found that the Total Home products did the same great job, and sometimes a better job than the leading brands, and the best part about it all, the PRICE. You don't have to give an arm and a leg to have a clean home.