Did you know that SONIC Drive-In is the one stop shop for all your drink needs? About a year ago, I decided to stray away from all the sugary drinks, I went from drinking a 2liter of Mt. Dew or Pepsi a day, to nothing but water. Sometimes drinking nothing but water can get boring. Thankfully, we have a SONIC Drive-in not far from the house, and since they're the ultimate drink shop, I can count on them to give me a refreshing drink for little to no calories.
I would rather eat my calories than drink them. SONIC Drive-In has over 20,000 low calorie drinks, so I am sure to find something to sooth my thirst, while allowing me to drink as little to no calories as possible.
Recently, we had the chance to check out some of SONIC's low calorie drinks. I have always been a fan of SONIC, my favorite is a JR burger, with an order of mozzarella cheese sticks, and a diet cherry limeade!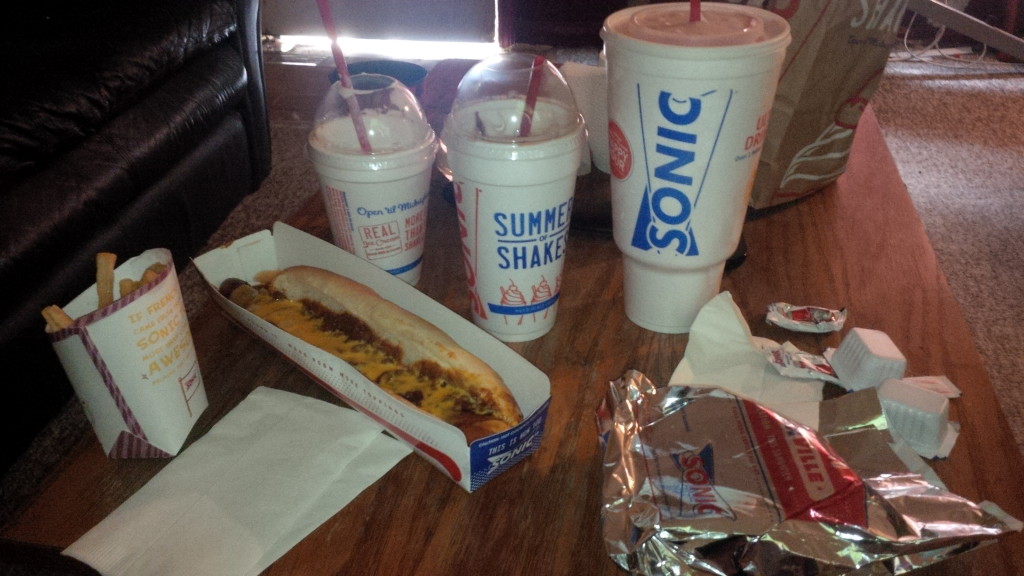 One of my favorite things about SONIC is Happy Hour! This means between 2pm and 4pm you can get your drinks for half price, with SONIC offering thousands of different drinks, you're sure to find something for everyone, whether you are a health nut, or one who loves their drinks.
With being a health nut myself, and not wanting to drink my calories, I had fun mixing up some different flavors to make me some nice refreshing low calorie drinks. Check out what all I mixed to get a refreshing treat to help with the Tennessee, Summer heat!
Sprite Zero with Raspberry
Diet Green Ice Tea with Mango
Diet Cherry Limeade
Ice Tea with Mango
Ice Tea with Raspberry
Being in the south we are being on our ice tea, however, before I switched to all water, I drank my tea with sugar. So I tended to stay away from tea, I wanted to see what I thought of tea with a little fruit flavor, and I have to say, I am loving me some tea.
When the heat gets to hot, we head out to our local SONIC Drive-In for a little happy hour!
Want to check out some low calorie drinks from SONIC the ultimate drink shop? One lucky reader of The Neat Things in Life is going to win a $25 SONIC Drive-In gift card, and if you go during happy hour that is a lot of drinks!
To enter follow the directions on rafflecopter.