I am sure by now all the kiddos are back in school! Borden Dairy wants to help you with the dreaded task! From now until September 22nd you can enter to win $10,000 and some cool swag with the "Kick Start Their Dreams" Sweepstakes.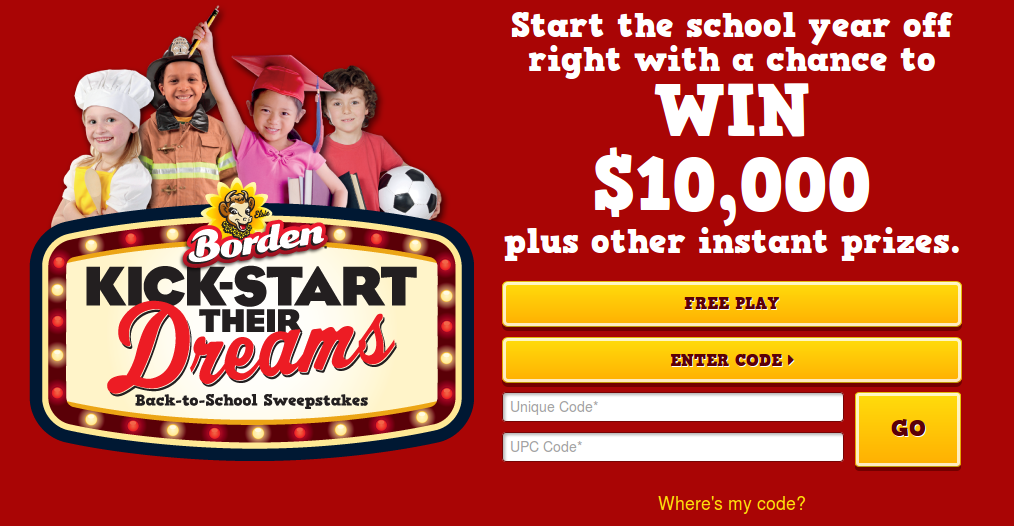 Sweepstakes Information
Sweepstakes runs from August 19 to September 22
Enter at bordenkickstart.com
Prize: Grand Prize winner will win $10,000, additional prizes that include Elsie the Cow swag bags and free milk for a year coupons will also be rewarded.
Sweepstakes is Open to legal residents of Florida, Georgia, Kentucky, Louisiana, South Carolina, Tennessee and Texas who are 18 years or older as of 8/19/13. Participants must be 21 years or older to play in Mississippi. Participants must be 19 years or older to play in Alabama.
Receive four additional grand prize drawing entries when you enter a unique code found on Borden chocolate and regular white milk half-gallon neck hangers along with the product's UPC.
Good luck to those entering!