How many of you have been to Scottsboro, AL? A week ago I would have been one of those ones saying not me, however, we here at The Neat Things in Life, was invited to come check out the neat things in Scottsboro, AL last week, and some neat things we did find!
How many of you have ever flown? How many of you have ever lost your baggage? I can say not me to both those questions, but I can say THANK YOU, to those of you who have had some lost baggage. Why? Because nested in the medium sized mountain town in Scottsboro, AL lays a place called Unclaimed Baggage Center. Or as I like to call it baggage heaven. No you cannot send your spouses ex's here, it isn't for that kind of baggage, but if you have ever flown, and lost your luggage, you can better believe it has ended up here in baggage heaven!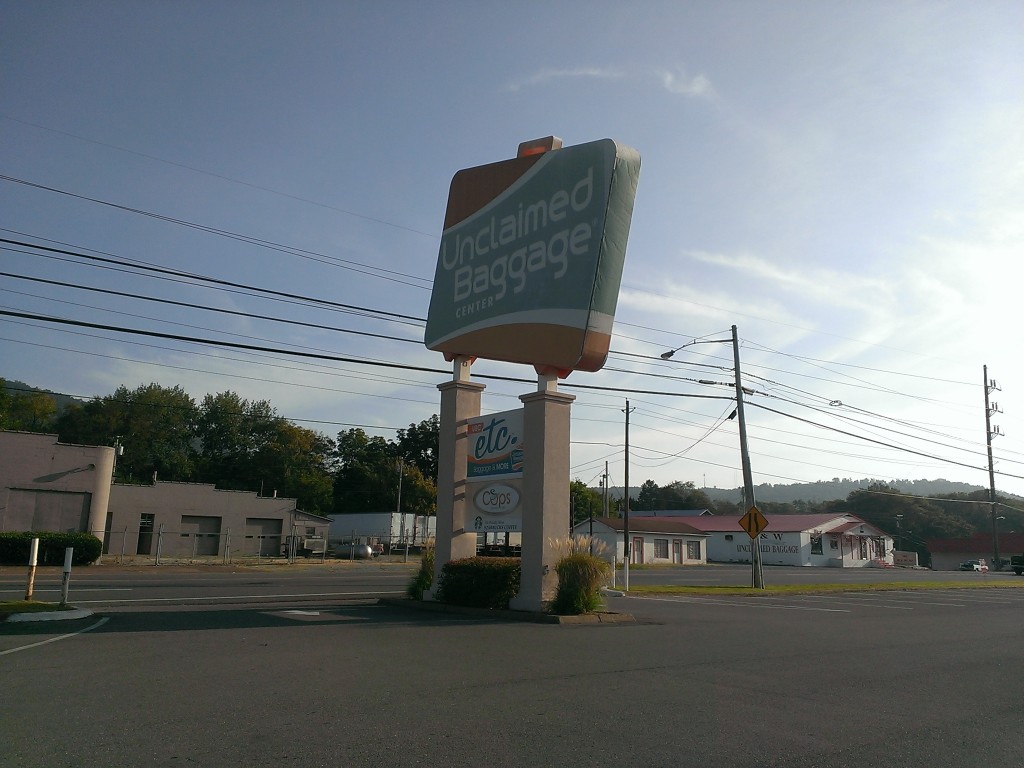 What event was this and what did I get from it you ask? The event was called "Getaway Day for Bloggers" this was the first annual event for Unclaimed Baggage Center and from my understanding this is only one of many, which makes me go WOOHOO! What all did the day consist of? Well let's see, first we did a meet an greet, and a small breakfast. Afterwards, Brenda gave us a tour of the store and told us a lot of neat stories a long the way. First stop was the store museum, this is a small area inside the front of the store. Meet Hoggle…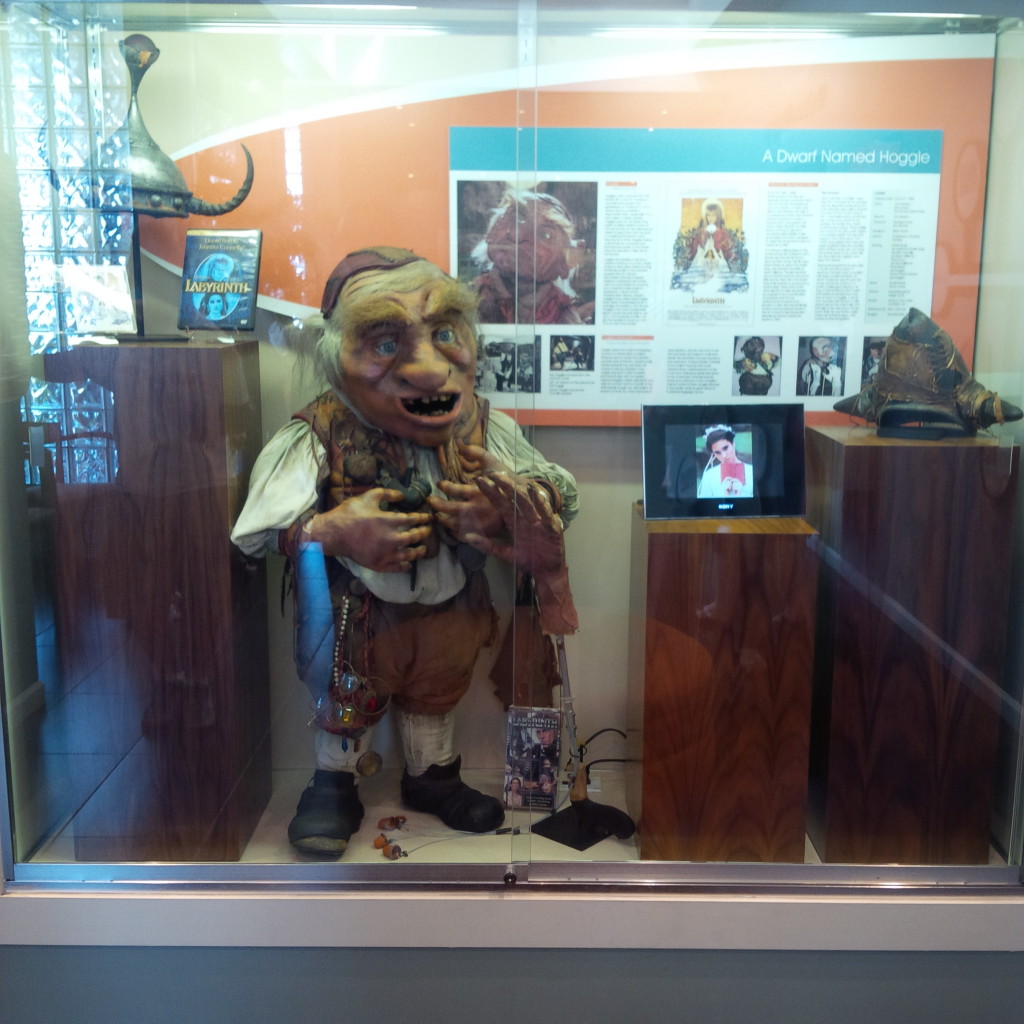 They also have a station in this area with a TV that shows the different news talk about Unclaimed Baggage Center, and a place where you can pin your location, with millions of pins already on it, from people all around the world.
Then when you walk into the store you're greeted with friendly smiles and clocks and money from around the world.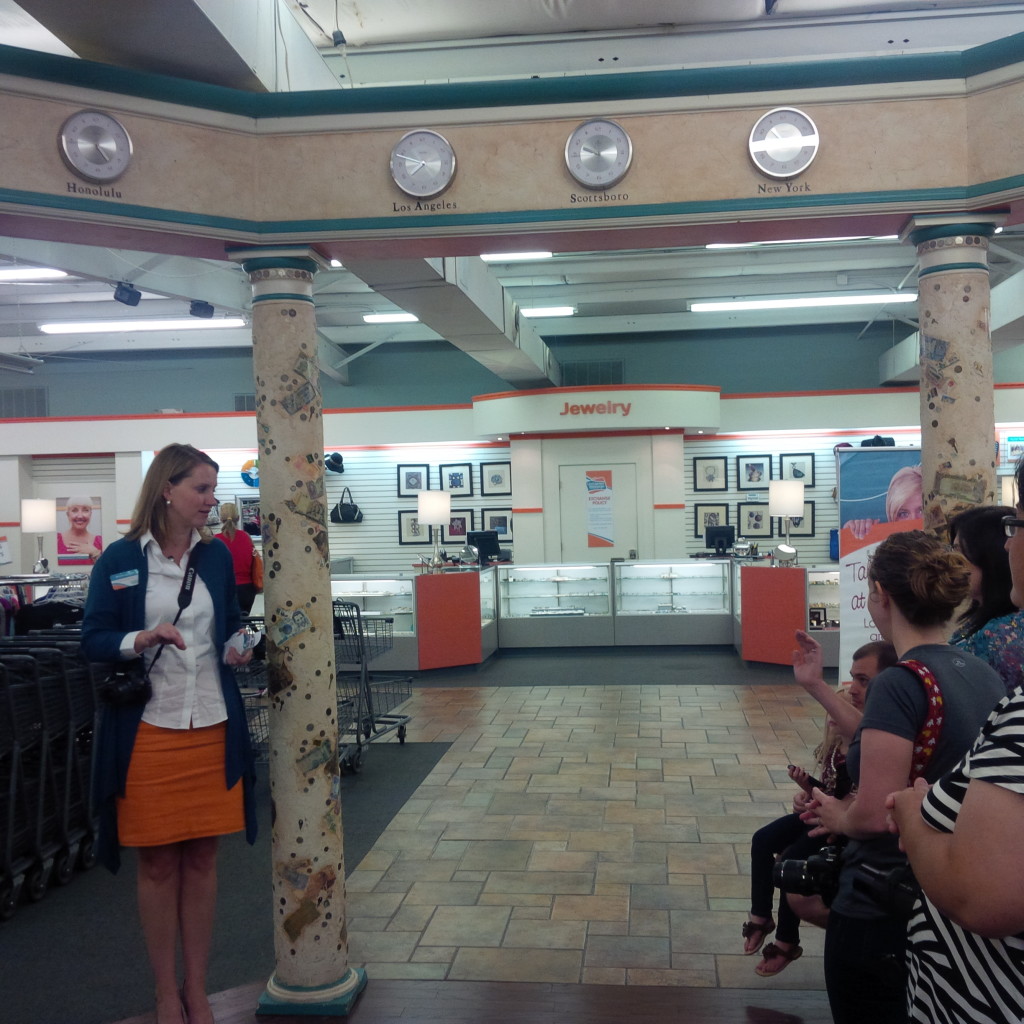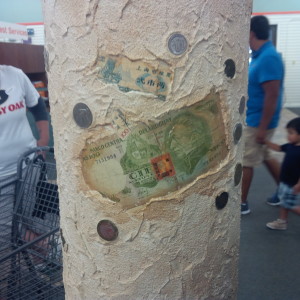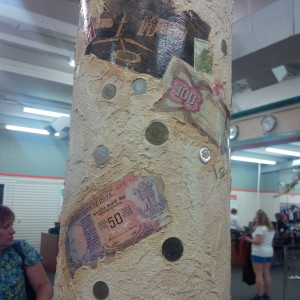 After our stop we was guided around the rest of the store and shown some unique items that have been found in unclaimed baggage!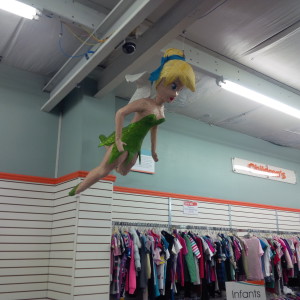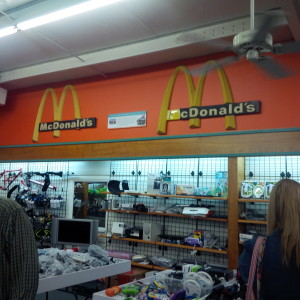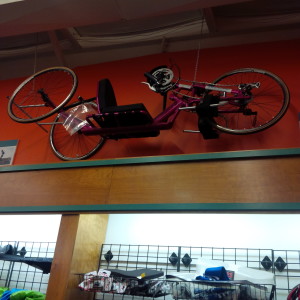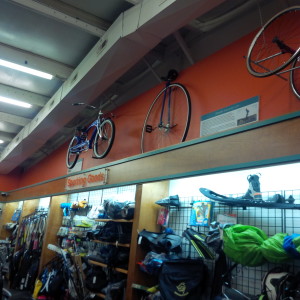 This is only a few of the unique things found, through-out the store they have oodles of items on display! After the store tour we were given $150 and sent on our shopping way!
Unclaimed Baggage Center has a little bit of everything! They have ipads, they have diamond rings, they have costume jewelry, wedding dresses, clothes, shoes, headphones, cameras, guitars, you name it they probably have it! Don't believe me? Take a look for yourself.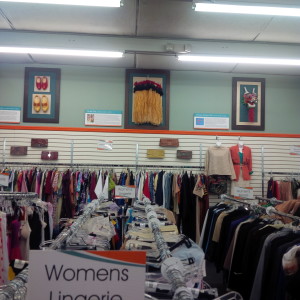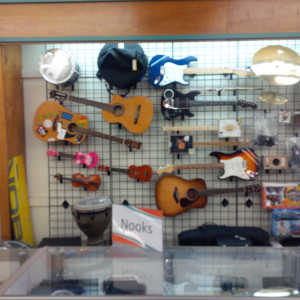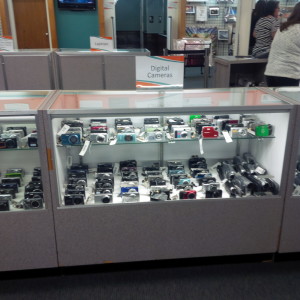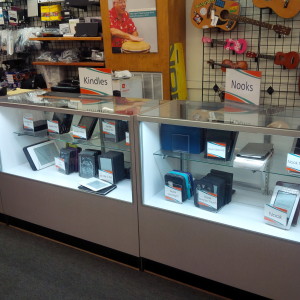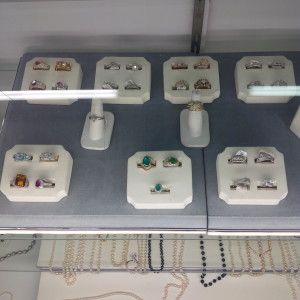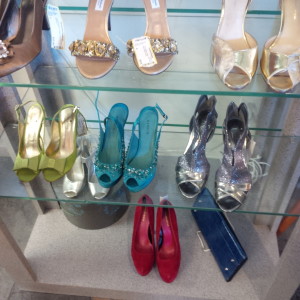 Shopping was fun, I found several great buys, I got my daughter a paid of lime skinny jeans, they were brand new still with tags, retail at JCPenny for $30, I paid a little of $7 for them, I found here a brand new pair of shorts, those were $5 something, but since summer is to an end all shorts were half off, so we paid $2.64!
My husband got him a nice hoodie from Eminems clothing line, I got me a pair of pants and a dress shirt, then we got out daughter a couple hello kitty items.
I have to say one of the hello kitty items was my favorite find let me show you pictures and tell you the story.
With having a daughter that loves hello kitty, I can spot the stuff  mile away. So while we were shopping in the kid section I found this Hello Kitty item nested behind a bunch of other stuff, it looked as if someone was hiding it, but my hello kitty eyes scoped it out.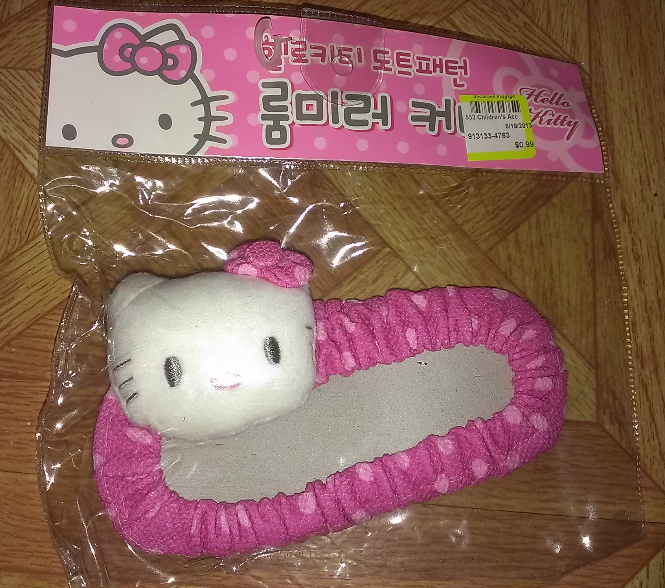 If you can see from the price tag, it was priced and possibly placed on the floor on 6/19/2013, and was labeled "Children's Acc" and priced at 99 cents. I could see where this would look like a child's accessory, maybe a headband, but I wasn't getting the feeling of this being a headband, I thought of it as something else… more like a mirror cover for the car. So when we got home I looked this up online, and I was correct! The Sanrio Hello Kitty New Style Car Rear View Mirror Cover
can be purchased on Amazon for $9.99, I even found this particular items being sold on other sites so as much as $22.95, this is what I would call a GOOD buy!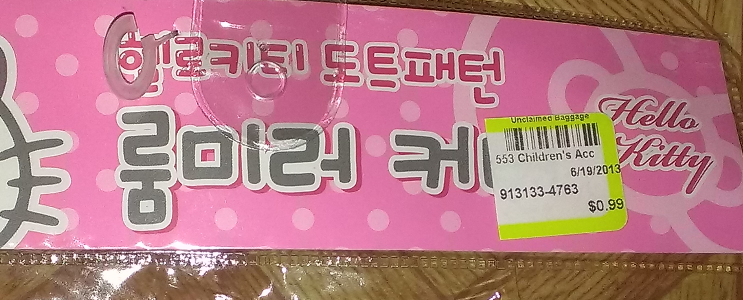 However, there's more to the story that makes this a unique find for me, and that is the product unless purchased on-line can only be bought in Korea, so I can only assume that the person that lost this bag was coming home from Korea and loved Hello Kitty! Score for my daughter but not so awesome for the one who lost it.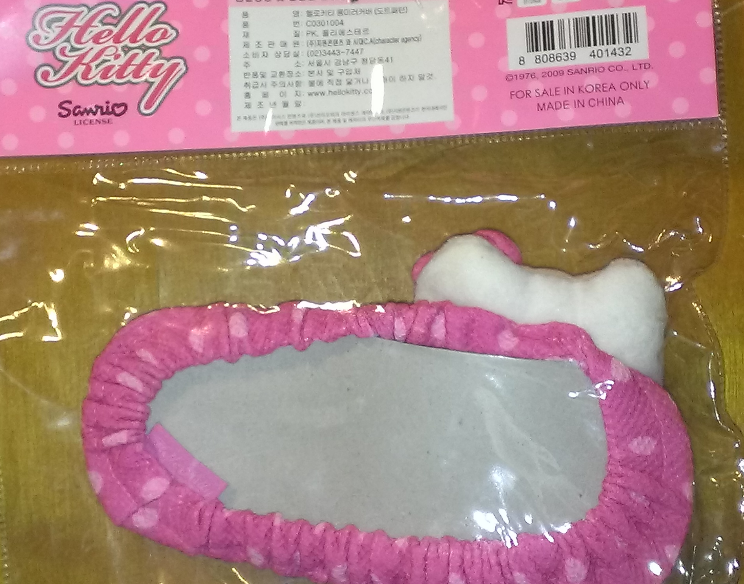 After our shopping time was complete we all met at the front of the store for the unbagging experience. This was where the folks at Unclaimed Baggage Center showed us all the process it takes to process unclaimed baggage, this was pretty neat, so neat I captured the presentation on video, wanna see? Of course you do!
Go ahead watch the video, I will wait…
Okay, you done? Pretty neat huh? I would love to live in Scottsboro, AL, not just because it is home of the Unclaimed Baggage Center, but because it's so pretty there!
After we got to experience the process we all headed to CUPS Cafe for lunch.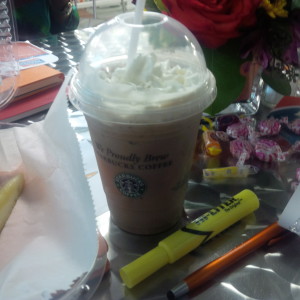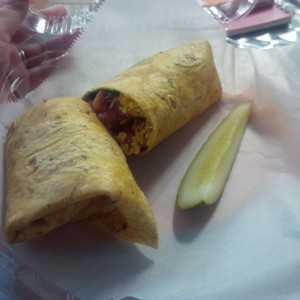 When lunch was complete we were joined by Dave Schroeder. The topics covered were, good storytelling, writing and content that connects, brand building, marketing, relationships and influences, and the publishing world. During this seminar I was given a lot of great information, and here on The Neat Things in Life, you will find a lot more storytelling. Some stories will be fiction and some will be non-fiction. You will see me engaging more with you all, because I want to know you, I want to know your story. I don't want to know you as the one who enters my giveaways, but the real you.
After the seminar we wrapped things up, and my husband and I left Scottsboro, AL to return home.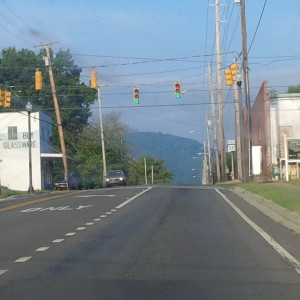 If you are ever in the Northeastern part of Alabama, there's two places you certainly need to visit, and that is the Unclaimed Baggage Center and Buck's Pocket State Park.