While my husband and I have been together almost 14 years, we have been married for a little over 7 years. Growing up I had always dreamed of a big wedding. However, when the time came to say "I Do" we went to the justice of the peace and had a simple marriage ceremony. I still dream of that wedding though, and walking down the aisle in a pretty dress and having my husband look at me as I am the only person in this world for him.
With our 10 year wedding anniversary only three years away, I would love to do a vow renewal, and have our friends and family all there, and finally get the wedding I have been longing for.
While I am in the process of losing weight, it's possible I won't be at my goal weight before the renewal, so I have been looking at getting a Plus Size Wedding Dress, something that is drop dead gorgeous, and something that's in our price range.
While browsing DressFirst, I found so many beautiful dresses, not only for smaller women, but I also found some really pretty dresses for plus size brides.
The Princess Strapless Royal Train Satin Wedding Dress With Embroidery Sashes Beadwork is my favorite!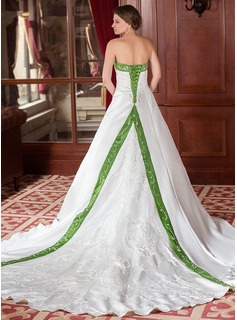 DressFirst, has dresses for all parties of the wedding, plus they are very reasonable on their prices. One thing I like about the site is it's easy to browse, I also like that they have many different styles, designs, sizes and colors to choose from and their dresses are in a price range that won't break the bank.
DressFirst, doesn't just have just dresses for weddings though, they also have a large selection of dresses for school aged girls. With school in full swing soon there will be homecoming, prom, and even graduation that our daughter's will need dresses for and DressFirst has all those dresses for all those occasions that will make your daughter's feel like they're princesses!
Will you be renewing your wedding vows soon?