About a week ago, I was woke up and informed Yoda the "puppy" had grabbed the daughter's cell phone off the coffee table, and decided to use it as his chew toy. I personally think he was trying to tell the kiddo to get off her phone and spend more time with him. Anyways, the phone was pretty messed up, and she was getting cut from it.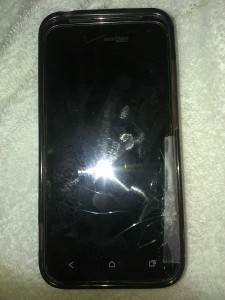 I put some tape on the side, but it wasn't going to cut (pun intended) it, so we decided we would order a new screen for her on eBay.
I found a listing for a screen and the description stated…
New HTC Droid Incredible 4G LTE Touchscreen Digitizer Replacement With Tools

Includes Installation Tools!

Replace your damaged digitizer to keep your phone looking and functioning properly.

Comes with the digitizer chip preattched for easy assembly.

High quality replacement part.
The item description was…
Item specifics
Type: Display: LCD Screen, Compatible Brand: For HTC
Display: Lens Screen,
Display: Screen Digitizer, Flex Cable, Tool Kit
From the description above it was everything I needed so that my husband could replace her screen, so the part came in the mail, my wonderful husband started to do surgery on the phone, only to discover this isn't what it was described to be at all!!! This my friend, is only the SCREEN. So now I ask myself why does it state in Item specifics, that the display type is LCD screen… am I missing something. I finally found the proper part on eBay, placed the order then contacted the seller of this product.
I informed them the ad was very misleading, since it wasn't at all the LCD and screen like it claimed to be. I was responded to with…
This is the digitizer screen and is all you need to replace just the cracked glass. We recommend a professional install it because it is tough to separate the glass and LCD. We do offer the LCD and digitizer combo if you would like it.
Then he offered to refund me my money.
Well, we did consult with a professional, and they stated it's very hard and almost impossible to replace only the glass, and it's recommended when placing a cracked screen you replace the WHOLE thing, LCD and all. If I would have known this wasn't the whole thing, I would have never ordered this product from this seller.
While he did offer me my money back, by the time I get the packaging and the shipping paid, I would only get about half of what I paid for the product. I am better off taking a loss, and marking it as some expensive cellphone repair tools.
When ordering things from eBay, how many of you have ended up with products that were way off the description?