Did you know October was national Caramel month? I am a caramel girl, always have been, whether it's caramel iced coffees, caramel apples, caramel apple suckers, and even those plain caramel squares. However, most the caramel I love isn't all that healthy for you, so I have removed them from my daily diet. I still love me a caramel iced coffee every once in awhile.
Are you a caramel lover as well? Did you know Balance Bars makes a healthy caramel treat, that will make that indulging not be a guilty one! To help celebrate national caramel month, I was sent a box of Caramel Nut Blast Balance Bars!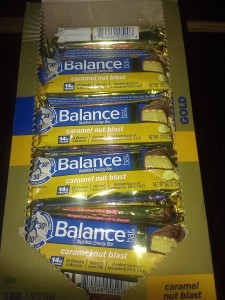 The Caramel Nut Blast Balance Bars, are 210 calories, have 24 vitamins and minerals in them, contain 14g of protein, and have a 40-30-30 nutrition balance.Which make for a great pick me up either after a workout or right before a workout.


One thing I like about the bars, is I can have my caramel fix without feeling guilty. I like to have one bar before a workout, so that I have the energy to actually workout. Trying to workout without a pick me up, has me feeling sluggish.
If you're looking for a treat that is not only satisfying, but also one that will help with a sweet tooth Balance Bars are the one for you. Balance Bars come in many flavors, so even if you're not a caramel person, I am sure they have a flavor that will be up your alley.
Balance Bars can be purchased at stores such as Walmart and Kroger, they retail about $1 a bar, which is pretty good considering candy bars are almost the same price, and the Balance Bars are healthier!
One lucky reader of The Neat Things in Life, is going to have a chance to try the Caramel Nut Blast Balance Bars. Entering is easy just follow through with rafflecopter.