With having weak teeth, and the pregnancy of my daughter taking a toll on mm teeth, it's very important that she take care of her teeth, so she doesn't have the same problems I have endured. I want her smile to shine through-out her life, and I don't want her to be ashamed to show her teeth like I once was.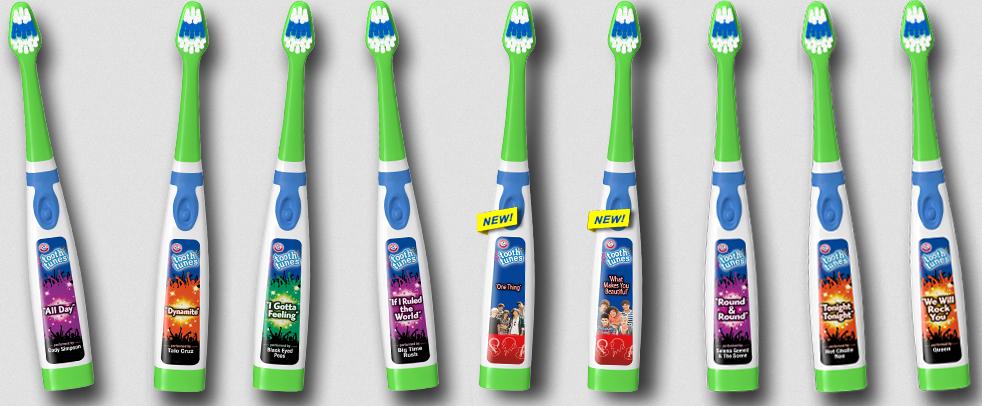 Thankfully, Arm & Hammer has come out with a fun way to get kids brushing! Arm & Hammer Tooth Tunes plays music for two minutes, so the kids can listen to some of their favorite tunes, while getting their teeth cleaned for school. Arm & Hammer Tooth Tunes helps eliminate the fussing between child and parent!
Some of the tunes include songs from One Direction, Black Eyed Peas, Cody Simpson, Selena Gomez, The Scene and even Queen!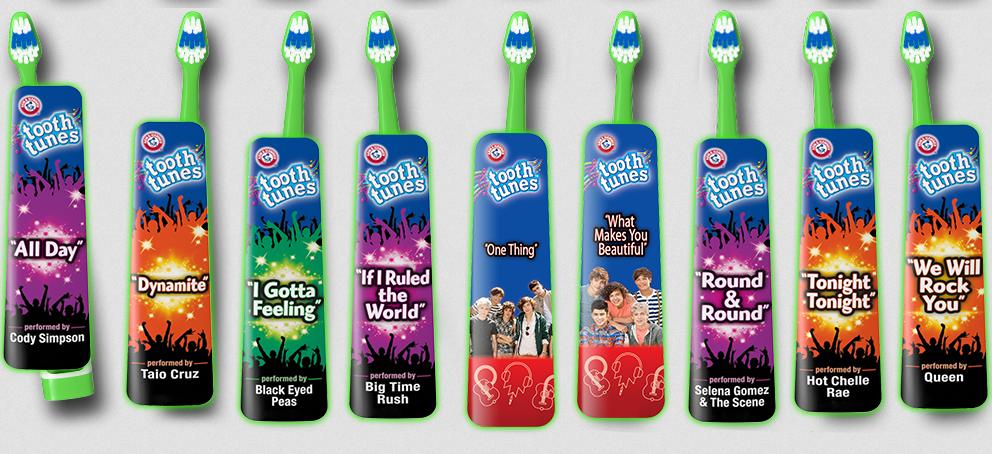 Unsure which your child would like? Lucky, for you they have an interactive site, so you can listen to them before you decide which one to get. Simply go to the Arm & Hammer Spinbrush site and start listening.
One great thing about Tooth Tunes, is each song does play for 2 minutes which is the recommended brushing time.
If you have younger children make sure to check out the Arm & Hammer Tooth Tunes Jr, which are designed for those smaller hands and is perfect for children between ages 3 and 6. The Tooth Tunes Jr feature songs from KIDZ BOP.
We were sent a few different items to help us with back to school!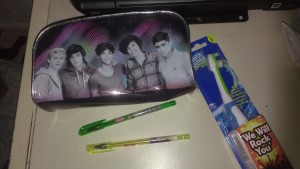 Yes, that is a One Direction pencil case, two One Direction pens, and a We Will Rock You Tooth Tunes. My daughter happens to be the only child I know that isn't a fan of One Direction, so I made sure to have her sent a different Tooth Tune, don't want her NOT brushing her teeth because of the music.
Thankfully, my niece loves One Direction because she ended up with the other items.
One thing I like about the Tooth Tunes, is they play the catchy part of the songs. I also like when products come out that give excitement to kids and encourage them. The Tooth Tunes encourages them to actually brush for the recommended 2 minutes, which ensures the kiddos are getting their teeth cleaned.
Tooth Tunes can be purchased at stores such as Wal-Mart, Walgreens, Target, Kmart, CVS, and even Amazon
. Price varies on where you purchase.
Make sure to follow Arm & Hammer on their social media channels so you can keep up to date on new products and deals on existing products.
Website | Facebook